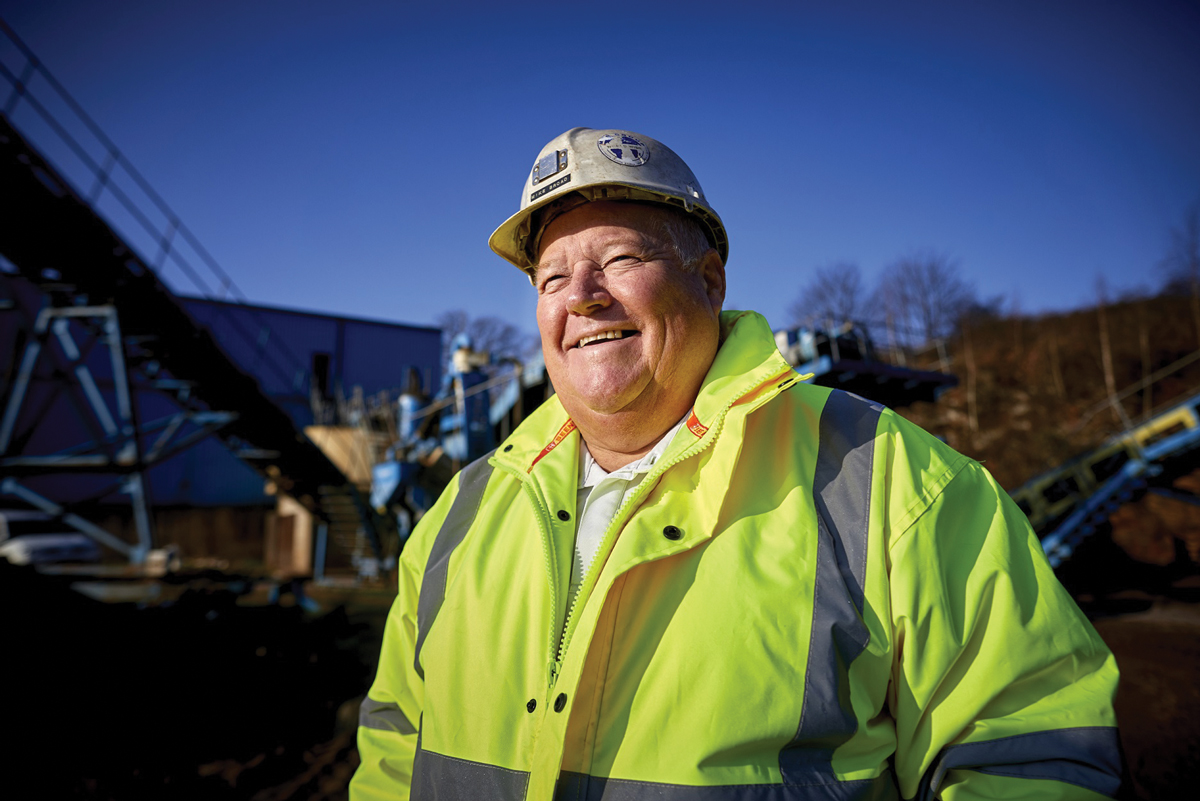 First published in the October 2019 issue of Quarry Management as Pioneering Partnership
Mike Broad looks back on his 48-year career in recycled aggregates with Gaskell Bros., recalling how CDE and Enda Ivanoff played a key role in a defining change of direction for the business and have been integral to its ongoing success
In October 1970, at the age of 17, an ambitious Mike Broad, fresh out of education at Wigan Grammar School, secured his first job with a local family-owned quarrying business. That company, Gaskell Bros., based in Ashton-in-Makerfield, had unknowingly recruited a future company director and forward-thinker who, alongside the Gaskell family, would alter the future course of the generation-old family business in years to come by forging a successful relationship with wet-processing equipment specialists CDE.
Founded in 1912 by William Gaskell and his two sons, Gaskell Bros. started out as a door-to-door coal sales business, their offices the back of the company horse and cart. In later years they would centre their operations around quarrying and recycling.
Mike Broad retired from the industry and the Gaskell Bros. business in September 2018, a remarkable 48 years after accepting an introductory role within the company's ranks – first, within the transport office; secondly, learning the ins and outs of quarrying; then sand extraction, and all the time climbing up through the ranks until being made a company director at the turn of the millennium.
In his years as a director, he worked alongside managing director Mark Gaskell and it was this senior management duo that carved out a new path for the company. It was to be the only company Mike Broad would ever work for throughout his long and distinguished career.
Coal mining in the UK, specifically its gradual demise through the mid-1980s, was a significant stumbling block for the Gaskell Bros. business. One of its most significant contracts at the time, which it subsequently lost, was with the National Coal Board (NCB), the organization which oversaw the nationalized coal-mining industry in the UK and would later become the British Coal Corporation.
'Gaskell Bros. had lost one of their most significant contracts and this was a defining moment for the future of the business; for what the business was to become with the help of CDE,' explained Mr Broad. 'Mark's father, Bill Gaskell, was the managing director at the time. He sensed the company needed a new direction and that this was hinged on finding new revenue streams. Basically, he said, 'Mark, you're the MD now and Mike, a director. It's time to get on with it. We're either going to sink or swim'.'
Change of direction
The senior management duo was destined to swim. With their new-found responsibilities, the ceremonial reins of the Gaskell Bros. business had been passed to a new generation of leadership. 
'Mark and I set out to offset the loss of the coal-mining contract,' said Mr Broad. 'The scope of the contract was managing quarry discard from the local coal mines. Time was of the essence to forge a new direction for the company.'
In 1999, Gaskell Bros. ventured into the recycling sector, their primary focus being building and demolition waste from Manchester and its neighbouring counties.
'First, we began operations in dry recycling, procuring a licence to process material that was destined for landfill, though this did have its limitations,' said Mr Broad. 'We weren't the only player in the market at the time and it was a challenge. We had to identify and produce a product that others weren't yet producing, so we ventured into wet screening – or 'wet recycling' – adding water to clean the recycled aggregate. This also presented us with challenges as it was taking up to three days, in some cases, to fully remove the moisture content from drying sand. It was a learning process, and one that was not without its difficulties,' he confessed.
Nevertheless, this period set the course for what was to become a long-running partnership between CDE and Gaskell Bros., leading to one of the first full-installation sand-washing and recycled aggregate systems in the UK.
'Enda [Ivanoff] was fresh out of university at the time when we first made contact with CDE,' explained Mr Broad. 'He came over to see our operation and we explained the challenges we were facing; extracting moisture from the sand and excessive fines losses. Enda and the team at CDE implemented a sand plant that integrated seamlessly with our current operation.'
CDE supplied their 40 tonnes/h Compact Sands plant to Gaskell Bros. in 2002. 'The plant was a massive boost to our operation, significantly reducing our fines losses and expediting recycled sand aggregate dewatering,' said Mr Broad. 'However, just when we thought we had it all figured out, another aspect of our then current line-up of plant started to present issues; the log-washer just wasn't up to the job.
'CDE told us they had log-washers, so Mark and I booked flights to go over and see the plant. That was a formative trip for us. We visited and reviewed several installations. We were so impressed by what we encountered on the trip that we began preparations to invest in a complete plant to be fully installed by CDE.
'It certainly wasn't an overnight job, but the end result of countless calls and months of considerations,' continued Mr Broad. 'Favouritism wasn't a factor. We consulted with a number of different leading plant suppliers, all of whom were invited to quote and outline how they could support Gaskell Bros. to move forward. For us, it was CDE's first-rate product, expertise and service that stood out from the rest.'
Turnkey solution
The fixed-plant, turnkey solution CDE supplied to Gaskell Bros. in 2004/05 – a complete overhaul of the company's recycled aggregate system – was the biggest single investment ever made by the company.
Gaskell Bros. began processing reclaimed materials at a much faster rate. As little as 10% of materials were now destined for landfill. 'We were processing materials we didn't process before, and the built-for-purpose plant resulted in a significant upturn in new business contracts. Efficiency meant we had a volume of product to fulfil almost any customer contract,' said Mr Broad.
With an improved product base, Gaskell Bros. carved a reputation for producing some of the highest-rated recycled aggregate in the UK.
'That same system installed by CDE still operates to this day and, in all that time, Gaskell Bros. have never had product rejected or returned,' Mr Broad remarked, proudly.
Its washed and recycled sand is used for block paving and flagging, and 10–20mm aggregates frequently used as pipe bedding for drainage systems in new housing developments. Its 40/20 aggregate – processed, recycled and stockpiled in summer months – is marketed to the agri-food industry and agricultural land-drainage contractors. Oversized materials are fed through an impact crusher to produce another recycled aggregate widely accepted in the industry, MOT Type 1.
'Quality and quantity in equal measures was an ethos we abided by,' said Mr Broad. 'Our recycled aggregate could be pitted against any primary aggregate on the market. It was marketable at a price point not much less than primary aggregate. In every sense it was an equal product. Often, the slight cost saving was enough to tip the balance in favour of recycled.'
As Mr Broad explained, hesitancy often exists in the industry, deeming recycled aggregate to be an inferior product to primary aggregate, but it is a cost-efficient alternative available in high volume. 'From the countless tonnages we've sold over the years, not one was ever returned or rejected,' he reiterated.
Looking back fondly on his lifelong career with Gaskell Bros., Mr Broad said: 'We were always a 'belt and braces' outfit, working tirelessly to keep the plant processing reclaimed material we knew we could salvage a high-quality product from. We achieved a lot, and from starting out as a teenager in the transport office, I was fortunate enough to become a company director. We had the backing of CDE throughout as the company refocused on recycled aggregate. From parts, to servicing and operations, they were integral to the success of the business.'
Now a member of the executive leadership team and group business development director at CDE, Enda Ivanoff says Gaskell Bros. remain one of CDE's pioneering customers.
'From working with Mike and Gaskell Bros. to commission the first tailor-made construction and demolition (C&D) wash plant in the UK to commissioning the world's largest C&D waste-recycling wet-processing plant in Norway, CDE are supporting companies around the world in extracting value from C&D waste material destined for landfill.
'Every day, CDE wet-processing solutions divert 63,000 tonnes from landfill, totalling over 15 million tonnes per year. As this figure continues to grow, and as CDE continue to expand and innovate, Gaskell Bros. will remain one of our pioneering customers and an important part of that sustainability-driven growth story.
'We are extremely proud of the opportunity that Gaskell Bros. provided us in those early days; it took huge courage, on both sides, to believe in what was possible. We will continue to pioneer new and innovative technologies so the world can continue to develop its circular economy.'