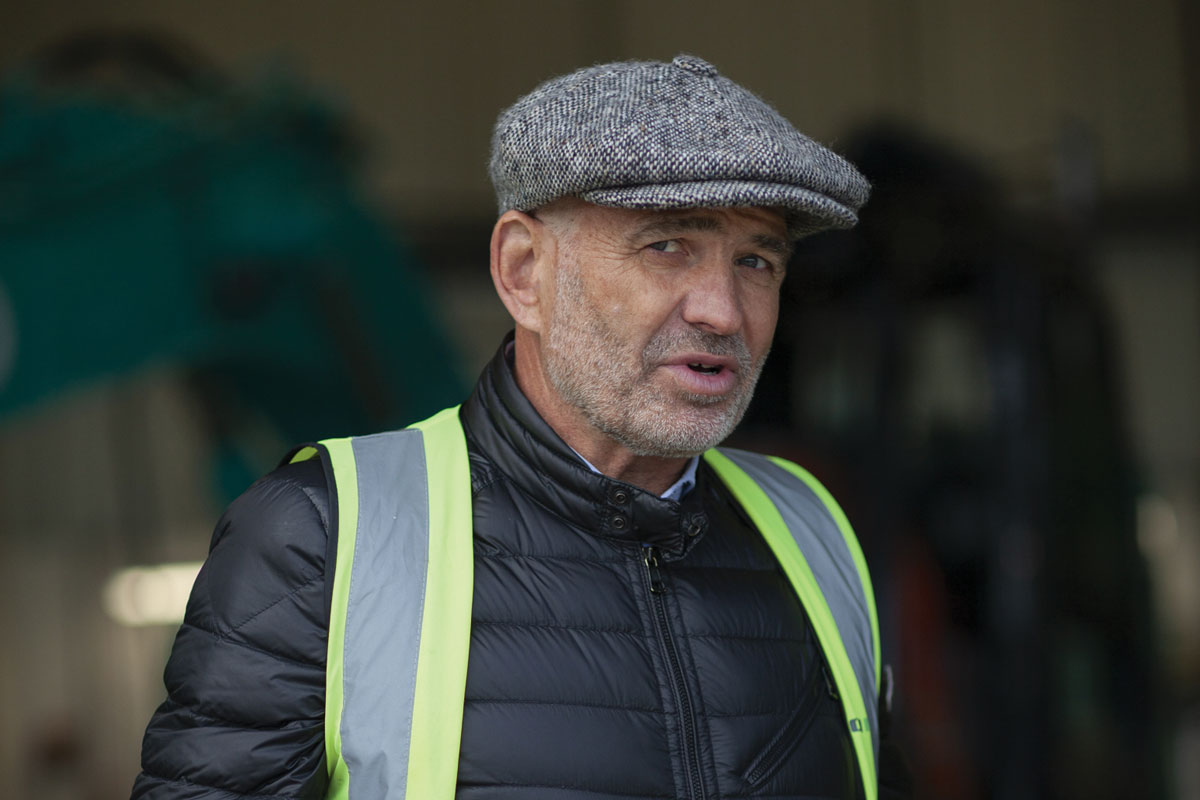 First published in the December 2022 issue of Quarry Management 
As the UK's largest independent machinery dealer moves into the US market and prepares to launch its own fleet software business, Quarry Management talks to Molson Group managing director Robin Powell
There cannot be many equipment distributors that have gone from a £1,500 loan to buy some used excavator buckets in 1996, to a £390 million turnover from businesses on both sides of the Atlantic in 2022; a company with no less than 32 brands in its portfolio, among them both Finlay and Powerscreen – the only dealer in the world to offer both Terex-owned ranges. But then, there are not many equipment distributors like Molson Group.
The company, based in Avonmouth, just outside Bristol, is active in a wide variety of business sectors, from construction to quarrying and mining, to waste and recycling and port handling. It has 16 depots across Great Britain and has recently expanded overseas, acquiring six locations across the west coast of America.
Molson have certainly not forgotten their roots, as used equipment remains a major pillar of the business. There are also plenty of excavator and loader buckets in stock at the Avonmouth base, though most are new these days.
'We started as used equipment dealers and we still love that part of the business,' said managing director Robin Powell.
Despite having its roots firmly in the construction market, what Powell calls 'yellow iron' is no longer the dominant part of the business, though the company still has distributor agreements and strong relationships with Kobelco, Hyundai, Rokbak, Thwaites, and Amman, among others. 
'Only 25% of what we sell goes into construction today,' he said. 'We're not overly reliant on any one sector or manufacturer.'
Mining and quarrying accounts for around 30% of the business, while waste and materials handling represent a further 25–30%. Indeed, Molson now sell around 120 materials handlers a year, representing a third of the UK market, with the UK's ports and the scrap metal sectors readily adopting the firm's Sennebogen machinery.
Though representing a smaller share, construction equipment remains a major part of the company's success. In 2014, Molson found homes for around 150 Kobelco excavators in the UK. This year that number will top more than 1,600 Kobelco machines. In total, Molson Group will sell between 4,500 and 5,000 machines in 2022, turning over £300 million in the UK, with a further £90 million from the newly acquired US operations.
Maintaining relationships
Equally important as new excavator sales is the steady rise in the overall machine park that this has created, leading to additional parts and service opportunities. As is so often the case in the equipment business, it is this level of service that has kept customers loyal and introduced new business to the Molson team.
'We have close to 100 mobile service engineers across the country,' said Mr Powell. 'A lot of our service work involves two engineers, often one is a specialist in that equipment.'
That ability to deal with multiple brands is not restricted to the service department. All of Molson's sales team can sell any of the product lines, both new and used. As contractors and rental companies have diversified into new business areas, so the company has grown to meet their needs, while retaining a personal connection.
'We've seen real change in the UK, with the development of multi-disciplinary customers working across a range of industry sectors,' said Mr Powell. 'But we have a 'don't break the relationship' bond with our customers.'
Molson salespeople can offer customers any type of machinery, from a £1,000 compactor to a £3.2 million port handler, rather than passing them off to another part of the business. This maintains that personal contact between Molson and the customer. In fairness, some of the manufacturers did question this multi-disciplinary approach, but it has been proven to work.
'Terex originally thought that yellow iron dealers couldn't sell crushers and screens,' said Mr Powell. 
'We have collaboration within our team, and we operate as a team. We can bring in the experts from complex equipment if they are needed as part of that collaboration. We have some super salespeople, because we liberate them. Our back office gives unparalleled levels of support to the sales team.'
Indeed, the relationship with Terex has become so strong that when Molson were looking for possible opportunities abroad, initially in Ireland, the manufacturer suggested the crushing and screening businesses in the US.
International ambitions 
Molson Group now have six locations across the US, in California, Nevada, Oregon and Washington, plus an operation in Hawaii. Molson's US operation offers sales and rental of a full range of Terex crushing and screening products, led by the Powerscreen range. However, Mr Powell is keen to build the business with a similar multi-sector approach to that enjoyed in the UK.
'Looking forward, we want to replicate the 360° product offer that we have in the UK, in the US,' he said.
One thing that has made the move into the US market possible, is Molson's approach to digitalization. Like so many businesses, Molson had tried to operate with proprietary software, but it never quite met the company's needs. In typical Molson style, they decided to develop their own fleet-management software, creating a product that will be launched to others in the industry in 2023.
'In 2017, we decided to take some external investment and expanded with a genuine financial director. We now have an executive board that is separate to the management of the company. We have been able to invest in physical infrastructure and in organic growth within the structure of the company. What allowed that, was the digitalization of the business,' said Mr Powell.
When entering the fleet software business, Molson took a year to narrow down 10 potential providers of a backbone system. The company then spent another year creating its operating system and installing it across all levels of the business. The result was the creation of smartCMD, a suite of software systems for fleet managers, dealers, and equipment users across multiple industry sectors.
Digitalization
The software offer has developed so far that it has become a separate business within the group, called CommandSuite. As well as fleetCMD, the fleet-management offering, the CommandSuite portfolio of software comprises dealerCMD, priceCMD, storeCMD, and futureCMD. Having deployed the dealerCMD system across their UK operations, Molson were able to successfully install it into their Californian operation in just one month.
'Everything that happens in the business is digitized in real time. Everything that happens in our business is in the data,' said Mr Powell. 'By digitizing the business, we offer a different level of service to the customer.'
Central to the success of the system is Molson's ability to bring together data from multiple sources. All manufacturers offer some form of telematic system, in the hope that customers will use their fleet-management software. However, customers can also ask that for the system's APIs (application programming interfaces) to allow the data to be used on a third-party management application, such as fleetCMD.
That, in turn, means that fleetCMD can bring together diverse fleets of equipment from multiple manufacturers, allowing the fleet manager a real-time view of the entire fleet in a single location.
'We provide carbon emissions, fuel efficiency data, driver league tables, idle times, and other operating information,' said Mr Powell.
This allows customers to monitor productivity and increase efficiency in their operations. However, the system also reports operating hours and upcoming service requirements, with the customer able to request a service from Molson online or, if they are carrying out their own service work, to order all the necessary parts through the e-commerce platform storeCMD.
If the machine is operating under an R&M agreement, it will also flag the need for service with Molson and the company can organize site visits to suit the customer.
Moreover, because the system has the actual serial number of the machine, when it orders parts, it is not just ordering a generic filter for a 14-tonne Kobelco, for instance, but the exact part for that specific serial number.
As well as machine data, fleetCMD can pull in information from weighbridges and other site assets, providing tonnes moved data and, increasingly importantly, CO2 emissions data for a site or fleet operation.
'We can integrate crusher productivity data, so that the customer can see all of their production information, along with service data, across multiple brands,' said Mr Powell.
For Molson, digitalization operates throughout the entire company. Individual jobs can be sent to field service engineers through their iPads, with allotted job times and orders for necessary spare parts included. Arrival times and working times are digitally logged and the engineers take digital photographs of parts used and machine repairs completed. This reduces any potential disagreement with customers over work that has been carried out.
'What's unusual about our system is the level of understanding that we have about what a dealer, or a contractor, actually does,' said Mr Powell.
'Customers have zillions of data points, but that's not what they want. By using dashboard widgets, the system is flexible, and we can turn data into actionable insight. It can even be used to show CO2 levels produced on each site, which can be important when tendering for public sector contracts.
'It's an entire suite of digital solutions. We're fast moving and innovative, but the unique part is that we understand what we are doing.'
Molson Group have come a long way in the last 26 years and the business shows no sign of slowing down going forwards. All sectors of the industry have been influenced by external forces over the last two years. However, by concentrating on what Robin Powell has dubbed PUCCA (Post-Ukraine, Covid, Carbon Analogue), you get the feeling that Molson are just getting into their stride.