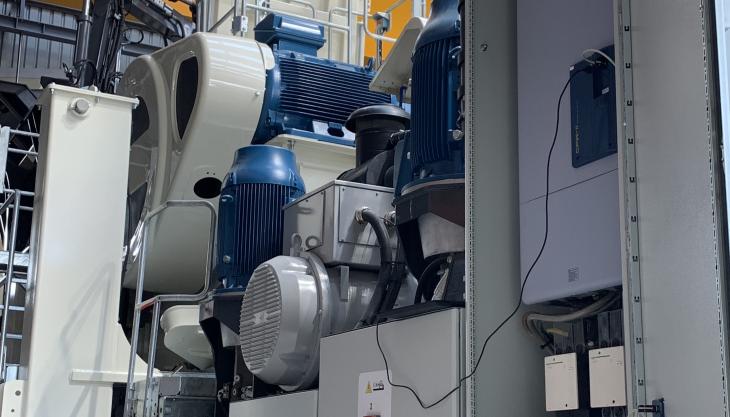 Technidrive use WEG equipment to create innovative jaw crusher unblocking system
JAW crushers can often be a difficult application for systems integrators due to the large inertia of the flywheel, cyclic loading and differences in feed materials, but this did not prove to be a problem for WEG's premier distributors Technidrive, when approached by a customer looking to implement a new motor in their jaw crusher.
Technidrive were not only able to improve the efficiency and reliability of the motor, but also the efficiency and safety of the entire jaw crusher system. With more than 20 years' experience in industrial drives, they used all their expertise to meet the demands of the project and even exceeded the customer's initial requirements by developing an energy-efficient, automatic jaw crusher unblocking system using entirely WEG products.
To develop a system that would be highly energy efficient and, crucially, would eliminate the dangerous task of having to manually remove blocked material, Technidrive commenced the project by carrying out power, torque and speed calculations, to decide upon a suitable selection of electric motor and drive units.
A WEG W22 motor was selected for its superior cast iron frame, inverter-rated windings and insulated non-drive end flange, along with a CFW11 WEG variable-speed drive (VSD) inverter with built in soft programmable logic control (PLC) functions.
One of the main advantages of this project is the level of control that has been achieved through an innovative piece of software developed by Technidrive. In the event that the crusher is full on start-up, this software allows the VSD to be remotely activated in an unblock mode, with a very fast ramp-up time in forward or reverse, depending on the position of the crusher.
This innovative system continues to automatically control the direction, current, ramp times, DC bus voltage, torque, position, and speed until the product in the chamber has been cleared and the crusher has run empty for a set period of time, removing any need for manual unblocking of the crusher.
Another important part of the system is the alternator, which is vital to achieving an efficient and reliable system. According to the International Energy Agency (IEA), 16% of motor failures are due to external conditions, such as contamination, so ensuring application suitability was essential.
The alternator selected is from the WEG G-line range with some special features such as a dust-filtering system, to allow it to operate in a dusty quarry atmosphere, without the risk of foreign particles entering the system. It also includes a digital input AVR, to allow remote voltage adjustment, and a standard I-PMG auxiliary winding system feature, to allow a dynamic response to load changes.
'The complete drive system was expertly selected to work in harmony to address many issues manufacturers in the industry come across,' explained David Strain, technical director at Technidrive. 'The added unblocking feature transforms the starting of the application – an often energy-intensive process – and provides a unique benefit for system safety.
'With the system supplied, we are able to provide a three-year warranty for the motor and inverter and ensure the three main parts of the drive system all work together for optimum performance and reliability. Since our first jaw crusher project, we have had much interest from other businesses in the quarrying industry. We treat each project on an individual basis, to offer bespoke turnkey systems.'
Russell Maccabe, UK sales manager at WEG, added: 'WEG offer specialist products that are developed specifically for the rock crushing industry. It's vital that manufacturers and suppliers both have extensive product, application and systems integration knowledge, which is why this project with Technidrive proved to be so successful.'