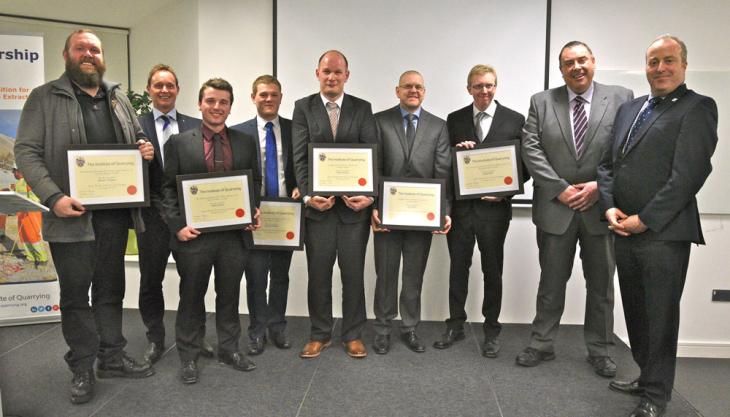 Institute of Quarrying honours highest-achieving students with prestigious awards
THE Institute of Quarrying (IQ) has honoured the highest-achieving students from the University of Derby higher education programmes through the partnership with the Mineral Products Centre, with a series of awards presented at a ceremony last night.
Pictured from left to right are: Dominic Hodgson, Martin Riley, Daniel James, Nicholas Jackson, Robert Symes, Lee Preater, Robert Kelly, Mark Osbaldeston (Centre for Mineral Products, Derby University) and James Thorne (IQ chief executive officer).
Martin Riley, deputy Chairman of the IQ, presented six awards to the highest-performing students from a variety of industry-recognized higher education qualifications, which are delivered by the University of Derby in partnership with the IQ.
The Goodwin Barsby Award, originally endowed by Leicester-based manufacturers Goodwin Barsby, was awarded to Dominic Hodgson, 37, for Best Honours Degree Student 2016. Dominic, employed by Hanson, is now based at Barton Quarry in Burton-on-Trent, Staffordshire.
The Reginald W Coles Prize, bequeathed in memory of Mr R.W. Coles, a past President of the IQ, was awarded to Robert Kelly, 39, for Best Foundation Degree Student 2016. Robert, employed by Tarmac, is now based at Howick Quarry, in Northumberland.
The Peter Preston Award, bestowed by the late Peter Preston, managing director of the Cliffe Hill Granite Co, was awarded to Nicholas Jackson, 25, for Best Diploma Student 2016. Nicholas, employed by Aggregate Industries, is now based at Cookstown Cement Plant in Northern Ireland.
The Ransomes Rapier Award, endowed by the historical excavator manufacturer, was awarded to Daniel James, 24, for Best Higher Apprentice 2016. Daniel, employed by Hanson, is now based at Sutton Courtenay Quarry and Appleford Depot, in Oxfordshire.
Two Longcliffe Calcium Carbonate Awards of Excellence were also awarded to Lee Preater, first-year student, and Robert Symes, second-year student, both from Tarmac, for Foundation and Certificate Year respectively. Lee, 37, is based at Stancombe Office, in Bristol, and Robert, 41, is based at Eysey Manor Quarry, in Wiltshire.
Julian Smallshaw, IQ head of education, commented: 'The best-performing students on the minerals courses at the University of Derby have always been honoured with these awards. Just like their predecessors when the courses were run at Doncaster and Leeds, these awards help to find the rising stars of the industry. These talented individuals can expect to go on and develop rewarding careers in the mineral extractives industry.'
Mark Osbaldeston, manager of the Mineral Products Centre, added: 'The Mineral Products Centre at the University of Derby is renowned for delivering industry-respected qualifications for the mineral extractives industry. In recognizing the hard work and achievements of the students, the IQ awards provide a platform for aspiring individuals to reach their full potential.'
For more information on IQ, visit: www.quarrying.org