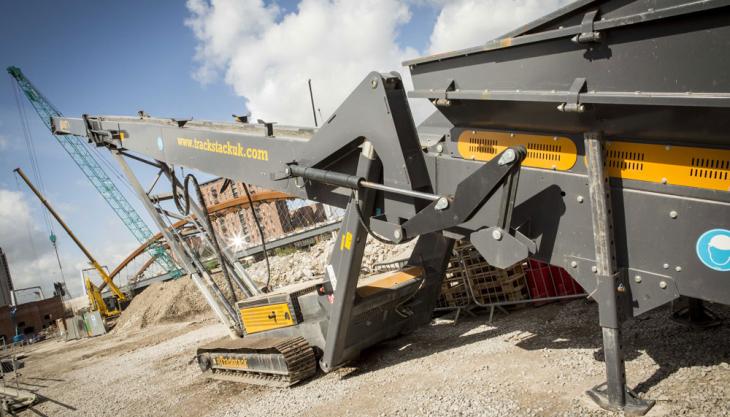 Finlay Hire supply 8042T tracked stockpiler to high-profile rail works contract for Skanska BAM
FINLAY Hire – part of the Finlay Group of companies – are helping to take the strain out of a major rail works project for Skanska BAM.
The civil engineering company is seeing significant efficiency on site after hiring a Tesab Trackstack 8042T stockpiler from Finlay Hire through long-term contractors Hawk Plant.
Working in Manchester, the machine is conveying rail ballast from ground level to the new Ordsall Chord, which is being constructed as part of Network Rail's Great North Rail Project.
The development will connect Manchester Piccadilly and Manchester Victoria stations, open up new direct links to Manchester airport from the north and reduce congestion at Piccadilly.
The Trackstack 8042T is moving around 400 tonnes of ballast a day, streamlining the workload – which previously took seven days with a crane – down to just two or three days each week. 
David Siney, general foreman for Skanska BAM, said: 'We initially hired the plant for two weeks but, because of how easy it is to use and the price of the hire, we've extended it with the intention to move the machine on to a different site.'
According to Finlay Hire, the heavy-duty 8042T is the ideal mobile stockpiling solution, boasting an extremely fast set-up time. It features a unique 'boomerang' design and means the feed boot height can be adjusted without altering the head drum position, ensuring maximum flexibility without losing stockpile capacity. 
With a production rate of up to 600 tonnes an hour, the Tesab Trackstack can receive material from a crusher/screener, be installed on a close-circuit application or be fed directly by either a wheel loader or excavator. The plant's Hi-Torque drive system and engine size combined reduces fuel consumption. 
Neil Bailey, sales director of Finlay Hire, said: 'When Skanska BAM first contacted us, they were looking for a way of getting rail ballast from ground level on to the bridge above.  
'The Tesab Trackstack 8042T was the ideal machine to help them, it copes well in the tighter spaced environment and is conveying material 8.5m high on to the bridge. This was a different type of project for us to be part of, and we are really pleased to see how well it's performing for them and how much easier it's making their job.'