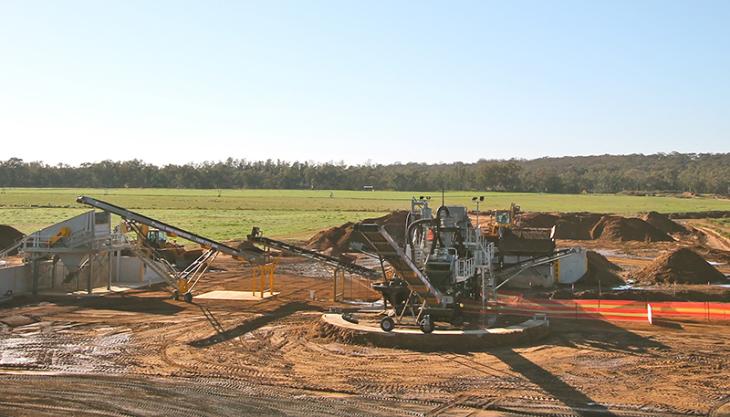 Terex Washing Systems (TWS) reported a successful Open Day in Australia, which is the  first of several planned events for 2014. The recent Open Day event took place at Dubbo Sands, Dubbo, NSW, Australia on 30-31 July 2014 to showcase the recently installed Terex Aggresand 165 washplant.
Niall Donaghy, sales manager, Mineral Washing Solutions (MWS), commented: 'We at MWS, were delighted to be able to showcase the first Terex Aggresand 165 washplant here in NSW, Australia, to current and prospective customers. The event was realized in partnership with our valued customer, Dubbo Sands and TWS, both of which played an integral part in delivering a successful event.'
Dubbo Sands' willingness to showcase the plant, in collaboration with TWS Australian distributor, MWS, afforded TWS the opportunity to host the event. An exceptional number of potential customers from leading material companies, throughout Australia, Queensland, NWS and Victoria, attended the event where they saw for the first time a working Terex Aggresand 165 washplant. 
Mardi and Graham Colbran, owners of Dubbo Sands, commented: 'Dubbo Sands where so proud to be involved with TWS and MWS in hosting the very first Aggresand 165 washplant release in Australia. The Open Day was a huge success, with so many positive comments; we know we made the right decision. The knowledge and expertize has been proven on the ground, with the team sent from Ireland, working alongside Niall, we have exactly what our quarry required and more.'
The plant is currently processing in excess of 200 tonnes/h of natural sand and gravel feed material to produce a range of aggregates and concrete sands. Attendees were impressed with the plant, which was evident from some customer feedback. Comments included: 'Very impressive and clearly an efficient unit', 'I was impressed by the modular system, with the quick set-up and ease of maintenance' and 'the Open Day was extremely informative, presented by staff who were knowledgeable and experienced'.
When asked about the best features of the Aggresand 165 washplant, customers said: 'The ability to blend feed two products before washing is impressive as well as the accessibility to the entire plant' and 'the small footprint, innovative design and ease of maintenance are some of the best benefits to me as a customer'.
Sean Loughran, director of TWS, commented: 'TWS were delighted to host the first of a series of Open Days in Australia. With it being the first Aggresand 165 wash plant operating in this market, reaction and interest to the plant was phenomenal which is testament to our commitment to providing enhanced and unique solutions to meet customers' needs and demands. TWS and MWS had the opportunity to meet with existing and many potential new customers and we look forward to working with them in the future to provide similar cohesive washing solutions.'
Fergal McPhillips, TWS sales manager, commented: 'The Open Day proved to be another successful showcase for TWS. Reaction to the plant was exceptional and we received immediate orders as a result. The Aggresand 165 washplant is continually proving to set TWS apart from other providers in the market and is revolutionizing the washplant market by introducing innovative solutions and continuing to serve our customers' needs and demands around the world.'
Mr Donaghy went on to comment: 'Customers particularly liked the opportunity to meet with Dubbo Sands owners, Mardi and Graham, who spent time with customers and shared their experience of the ongoing success and benefits of the plant; namely the ease of set-up and installation, pre-wash system, access, remote operation and the efficient running and production of the plant.'
Mardi and Graham Colbran, added: 'The professionalism and dedication from Niall and his team, starting with purchasing right through to commissioning has been outstanding; we feel that there is nothing else currently on the market, that even comes close.  We chose the Aggresand 165 washplant for ease of setup, having the ability to minimize disruption to our site was very important. Our Aggresand 165 washplant incorporates the pre-wash system allowing us to bring our sand into spec in just one pass, whilst producing three aggregates, giving us a very cost-effective operation. The quality of design and construction of this plant is easily seen, a lot of thought has gone into access for servicing to pumps, screens, and the controls, including remote operation from the loader, all of which are user friendly. This plant demonstrates what washing sand should be - easy. Everyone worked extremely hard to pull this together and we are positive ours will be the first of many hitting Australian shores.'
TWS are hosting a series of further Open Days in 2014 to showcase other products within their portfolio as well as another Aggresand plant, operating in a different market. The events are scheduled for France in September, Canada in October and India in November.
If you are interested in attending one of the forthcoming events contact Elaine Donaghy, marketing manager, elaine.donaghy@terex.com, to register your interest and find out more.