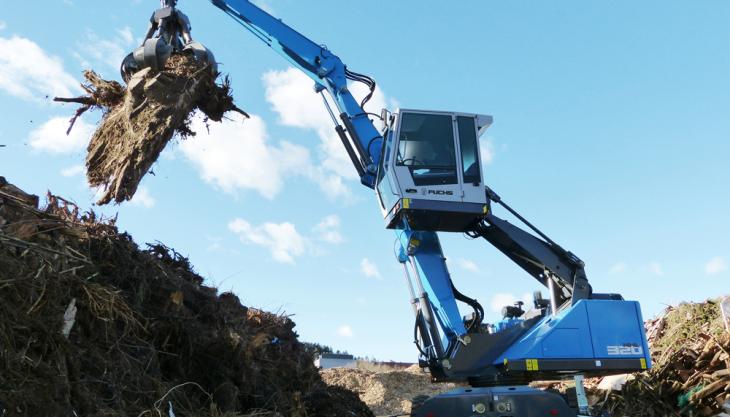 Strategic move aligns Fuchs brand with Terex Materials Processing segment
THE Terex Corporation have implemented a series of strategic moves and investments to better position their Fuchs material handler business for global expansion and sales growth. 
The product line, for example, has recently been rebranded 'Fuchs – A Terex Brand' in key markets for consistent global brand recognition. Fuchs have also transitioned to the Terex Materials Processing segment, which is a better strategic fit for the business within the broader Terex portfolio. 
'The purpose-built Fuchs material handlers are integral to the long-term Terex business strategy and a natural fit in the Materials Processing segment,' said Kieran Hegarty, president of Terex Materials Processing. 'We intend to grow and expand the Fuchs business globally beyond the line's traditional scrap markets into other markets including timber, recycling and ports.' 
Ron de Vries, general manager for Fuchs, added: 'In conjunction with the transition to Materials Processing, we appointed Jon Van Ruitenbeek as the new business line director for Fuchs in North America and we have announced several key sales and support management appointments in key North American and European markets, which will give Fuchs more interaction with customers during the sales process and provide them with a higher level support from the factory. Additionally, we are continuing to focus on growing distribution globally, so customers will experience more responsive service and parts support locally.' 
Accelerated investment in Fuchs' product development has resulted in a number of new models and machine upgrades. Two products were recently introduced – the MHL390 F and MHL370 F – giving customers more materials handling options to fill a wider variety of application needs.
Designed to deliver the long reach and high lift capacities required in port applications, the Fuchs MHL390 F handler features a broad outrigger base to provide excellent stability when lifting heavy loads at extended reaches of up to 24.5m (80.4 ft). A banana boom configuration is also available to allow the handler to effectively reach deep into a vessel's hull for port applications.
The MHL370 F unit boasts a reach of up to 18m, giving the market a much-needed machine to help meet the production demands of large, high-volume scrap operations processing material with mega shredders. The MHL370 F delivers increased lift capacity over the smaller MHL360 F model, while an elevating cab provides a maximum eye-level operation of 6.1m and cab forward movement of 2.2m.
Fuchs have also announced a new cab design to be launched later this year. The sleek cab design incorporates more glass to enhance visibility, a new joystick for improved maneuverability and a revised interior for more space and greater operator comfort. 
'These are exciting times for the Fuchs business,' commented Mr de Vries. 'We are significantly strengthening the Fuchs team, increasing local support by growing our distribution network, broadening and updating our purpose-built handler line for the market, and customizing our equipment to meet specific application needs for our customers. It's a good time to be a Fuchs material handler customer.'