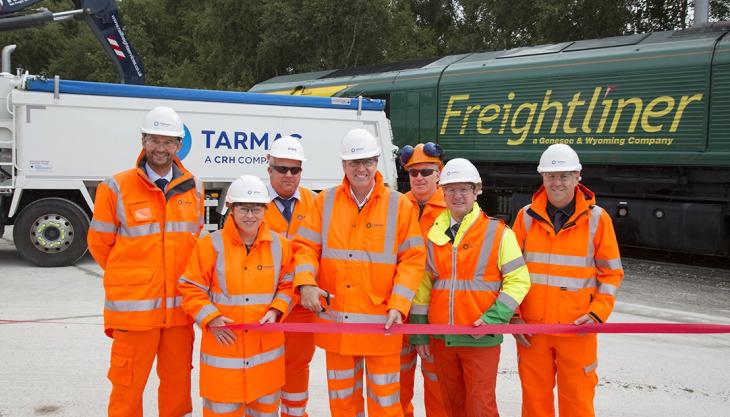 Companies celebrate opening of new facility at Garston to serve customers in the North West
A NEW Tarmac rail depot contained within Freightliner's existing Garston complex, which will take around 10,000 trucks off the roads every year, has been officially opened by the Mayor of Liverpool City Region, Steve Rotheram, and local MP for Garston and Halewood, Maria Eagle.
The operation, created by Tarmac in partnership with rail freight operating company Freightliner and terminal handling business Rail Freight Services, will receive up to 300,000 tonnes of aggregates a year for onward supply to Tarmac customers across Merseyside and Cheshire.
Richard Kirwin, area director for Tarmac, said: 'We're delighted to mark the official opening of our new depot, which is part of our national strategy to increase the movement of material by rail.
'The operation at Garston enables continuity of high-quality material supply to customers in the North West at the same time as supporting an important drive towards more efficient, sustainable transport and a lower-carbon built environment.'
Steve Rotheram, Mayor of Liverpool City Region, said: 'This depot will help serve the ambitious development plans that I have for Liverpool's city region, and I am heartened to hear that Tarmac are putting environmental concerns at the centre of their thinking.
'Moving materials by rail over long distances has got to be better than thousands of HGV movements on our already crowded roads. I welcome this positive step forward.'
Maria Eagle, MP for Garston and Halewood, added: 'Garston is a perfect location for such an important rail freight depot to serve Liverpool's city region and beyond.
'We have years of underinvestment in our national infrastructure to catch up on, and I am really pleased to see Garston playing such an important strategic role in this.
'I particularly welcome the new jobs that the rail depot will create, and I look forward to working with Tarmac in the future.'
Adam Cunliffe, UK managing director of Freightliner, added: 'We are pleased, once again, to be partnering with Tarmac in the continued expansion of their rail freight network.
'Garston is one of Freightliner's most established terminals and has seen a steady increase in rail-hauled container traffic over the last five years.
'The introduction of this new aggregates workflow will bring added environmental as well as economic benefits to Liverpool and the surrounding North West region.'
The Tarmac Garston depot, approximately five miles from Liverpool city centre, will support long-term employment in the local area, both directly at the site and in the local supply chain, and supply materials for use in a wide range of infrastructure projects across the region, including the newly constructed Mersey Gateway project.
Tarmac are one of the UK's largest private sector users of rail freight, transporting 9 million tonnes of material by rail across the country each year.