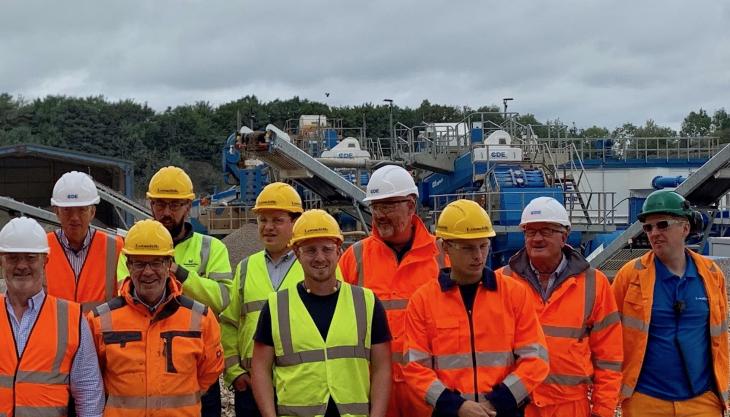 IQ Northern Ireland branch sees new state-of-the-art washing plant at Brassington Moor Quarry
THE Northern Ireland branch of the Institute of Quarrying recently enjoyed an in-depth visit to Longcliffe Calcium Carbonate's Brassington Moor Quarry, near Matlock, in Derbyshire. Central to the tour was the quarry's £3.5 million state-of-the-art washing plant.
The new facility, which was installed and commissioned by CDE in 2020, is contributing to Longcliffe's ongoing efficiency and carbon reduction goals.
For nearly 100 years, Longcliffe's Derbyshire quarries have been market-leading suppliers of high-purity calcium carbonates. The company produces more than 100 products for a vast range of critical industries, from animal feeds and pet foods to glass and plasterboards, and from plastics and adhesives to pH correction and flue gas desulphurization.
Operating at a rate of up to 220 tonnes/h, the washing plant allows the transformation of material with a higher clay content into valuable single-sized aggregates and sand grades.
This investment has allowed Longcliffe to recover key products from material that traditionally had to be discarded, thereby maximizing the company's available reserves and saving 12% of the quarry's load and haul fuel usage.
Longcliffe operations director Chris Wainwright, who hosted the visit, said: 'It was a pleasure to host this visit from a group of Northern Ireland-based quarrying enthusiasts. We are proud to demonstrate our new washing plant, which is delivering real benefits to our process, our customers, and the environment.
'Working with long-term supplier partner CDE, this project was a real demonstration of commitment and teamwork, being constructed and delivered despite the challenges of the pandemic.'
Pat O'Connor, chairman of the Northern Ireland branch of the Institute of Quarrying, commented: 'Our thanks to Chris and CDE for hosting this visit and answering questions on what was a very impressive set-up.'
David Kinloch, director of business development UK & Ireland for CDE, added: 'Longcliffe are leading the way with their approach to the long-term sustainability of their business and the environment, creating a range of sand and aggregates from what was a waste stream.
'We appreciate the time given by Longcliffe to allow guests this valuable opportunity to see, first-hand, the technology being used and the quality of the material coming off the belt. We are proud to have partnered with Longcliffe to deliver this project.'