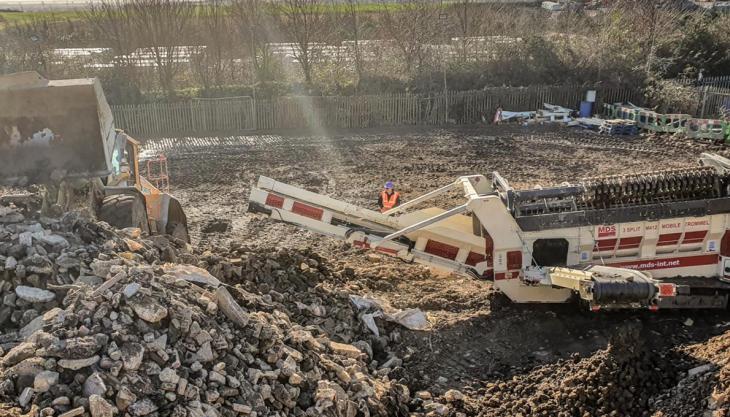 Latest M413 model cleaning and sizing reclaimable aggregate into three products
MDS International have expanded their line of mobile trommels with the launch of the new compact heavy-duty M413. With a throughput range from 150 tonnes/h to 1,000 tonnes/h, the MDS trommel range offers the recycling and demolition sectors a turnkey solution to the heavy-duty separation of both quarried rock and recycled aggregates. 
With numerous mobile screens and drum types available on the market, a major London-based utilities business has opted for MDS International's newest three-way-split M413 trommel. Designed for ease of transportation, the 24-tonne machine sits under 3.1m high and has many built-in benefits for operational efficiency, including an intuitive digital control panel. 
The customer had to deal with reclaimable aggregate within wet sticky clay, having previously attempted to screen this material with a traditional horizontal screener, but the operation failed immeasurably. 
The machine, for example, could not separate the aggregate from the clay without blockages on the screen deck and large amounts of carryover. The heavier aggregate with granite type kerbs was also causing damage to the screen media, resulting in costly downtime and reduced daily production tonnages. 
Since taking delivery of the new MDS M413 trommel, the customer has been able to overcome these production obstacles and meet its high recycling target requirements. The quarry- and mining-spec of the three-split trommel meant that it was suited to the customer's project requirements; in this case cleaning and sizing heavy lump sizes up to 600mm at rates up to 300 tonnes/h.  
Key design features of the M413 unit include: a hydraulic push feeder system; and an innovative drum cleaner, which has been specially engineered to deliver three different product sizes by promptly removing the clay fines from the aggregate without any blinding over the screen.  
According to MDS, the drum cleaner system is a 'game-changer' in the scalper screener market. The drum cleaning technology features a series of cog wheels that punches out the openings at every turn. Reducing overall downtime, a gear mechanism is used to rotate the drum whilst keeping the openings clean and clear, eliminating any unwanted material blockages.  
For the customer, the MDS M413 trommel is currently producing: 75–100mm clean aggregate; –75mm material; and +100mm clean to the crusher. This has provided a commercial opportunity and an additional revenue stream in the waste-recycling sector.