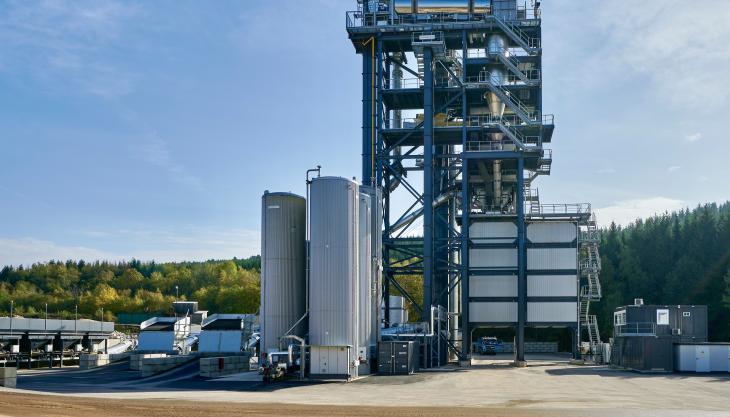 320 tonnes/h TBA 4000 asphalt mixing plant inaugurated by Belgian construction company Bodarwé
THE first Benninghoven asphalt mixing plant to leave the German manufacturer's new high-tech factory in Wittlich, a TBA 4000 unit, has been inaugurated by Boreta SA, a subsidiary of Belgian construction company Bodarwé.
Benninghoven's new factory, which represent the biggest single investment in the history of the Wirtgen Group, is equipped with a range of advanced technologies, including a surface-treatment line that produces a solvent-free, scratch- and impact-resistant powder coating, together with permanent corrosion protection.
Capable of producing up to 320 tonnes/h, with day-to-day reserves catered for by a 341-tonne capacity mixed material loading silo, the TBA 400 mixing plant's multivariable cold feed system and hot parallel drum feed allow it to achieve recycling rates of up to 70%.
The new Bodarwé plant is also equipped with an integrated foamed bitumen module which can be for the production of low-temperature asphalts, thereby cutting energy consumption by around 9kWh/tonne of finished asphalt and reducing CO2 and other emissions.
'Whilst we've not yet brought the foamed bitumen module online, the flexibility it offers is exactly the reason we opted to include it in our plant,' said Bodarwé managing director Michel Bodarwé. 'This technology is certain to play a very important role for us in the future.'
He added: 'With the Wirtgen Group and the Benninghoven customer support team, we have a partner we can absolutely depend on at all times – from major jobs like winter maintenance to the supply of spare parts or answering our day-to-day questions about plant operations, they're always there when we need them.'