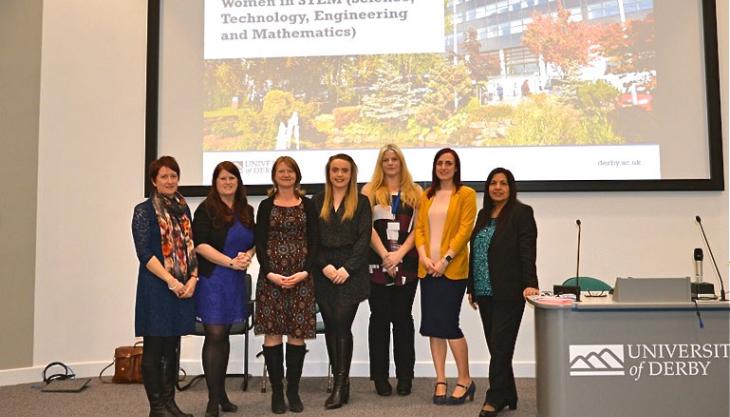 Tarmac inspire young women to get into science, technology, engineering and maths careers
'NEVER give up on your dreams' was the headline of an inspirational talk given by Tarmac's Josie Morrissey, environmental co-ordinator at Barnstone Cement Plant, as part of an event at the University of Derby to mark International Women's Day and encourage more women into careers in science and engineering.
Women currently represent just 21% of the UK workforce who are in science, technology, engineering or maths (STEM) related jobs.
The University of Derby's 'Women in STEM' event presented an opportunity for 14- to 20-year-olds to see and hear from inspirational women who have carved out successful careers in the fields of science and engineering.
More than 50 students and their families attended the event to hear more from a series of women including Josie Morrissey, who began her career in the cement industry as an apprentice at Tarmac's Aberthaw Plant in South Wales.
Josie, who joined the company in 2003, won the Institute of Engineers award in 2004 as the best performing student in South Wales.
Whilst not holding a degree, she felt strongly about attending and explained why she wanted to speak at the event: 'I felt compelled to attend the event when I first heard about it, because as a youngster I had attended a similar type of initiative which sparked my desire to get into the engineering industry.
'I presented my experiences about being the only woman to do what I did, and how I felt the company had always strongly supported me.
'I felt it was important to explain that a degree is not the only route to success, and that this can be done by managing your career through a practical, vocational route.'
The University of Derby's schools and colleges liaison tutor for academic outreach, Bev Reardon, said: 'I was looking for speakers for the event who would inspire and enthuse the next generation of girls to consider STEM careers.
'I knew that Josie would be a perfect speaker because her journey had not been the typical undergraduate journey; rather it was one of an apprentice in a very male-dominated industry.
'Josie's presentation was humorous, insightful and engaging, and fulfilled the exact criteria that were required to communicate effectively with the audience.