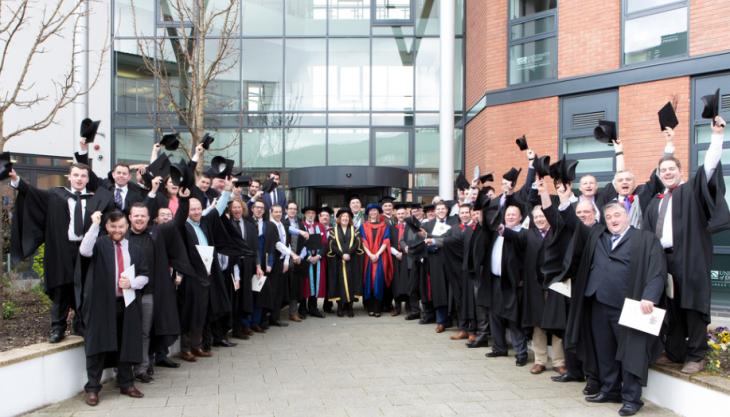 University of Derby's Centre for Mineral Products students celebrate their graduation
STUDENTS from the University of Derby's Centre for Mineral Products celebrated their graduation earlier this month.
A group of professionals working for companies including Hanson, Aggregate Industries and Tarmac graduated with university qualifications in a range of subjects, from mineral extractives to concrete, asphalt and road-surface technology.
On Friday 8 April, certificates were presented to those who successfully completed their studies whilst in full-time employment, at a graduation ceremony at the University of Derby's Enterprise Centre. The students were joined at the ceremony by their families, employers and wider industry representatives.
Margaret Bruce, the University of Derby's deputy vice-chancellor, presented the students with their awards, and Terry Last, Master of the Worshipful Company of Paviors, delivered an address to the graduating students on behalf of the industry.
The ceremony was significant as, for the first time, it saw students graduating from the BSc Honours degree in Minerals Management and the Mineral Products Higher Apprenticeship programme, alongside students graduating from the Diploma programmes.
Julian Veal, a quarry manager with Breedon Aggregates, graduated with a Diploma in Quarry Technology and gave the student 'vote of thanks' at the ceremony.
He said: 'The university staff are incredibly knowledgeable and passionate about what they do, and the course content has been very useful. I found the tutorials a great way of meeting colleagues and people I'm now proud to call my friends.'
Thomas Emerson, who works for Hanson, was one of the first to graduate from the Higher Apprentice programme and is currently studying towards the Honours degree. He said: 'The Higher Apprentice course was a lot more worthwhile than the other options available to me after finishing school. There is a real variety within the industry and it's fantastic to have the opportunity to gain an education and vocational experience at the same time.'
Ian Strachan, who completed the BSc Honours in Mineral Management, commented: 'It was really challenging to complete the course while working full-time and it is an achievement to have completed it. I would like to return to the university when an MBA programme is available!'
Mark Osbaldeston, head of the Centre for Mineral Products at the University of Derby, added: 'We are very proud to have this opportunity to celebrate with our students alongside their families and employers. We hope the students are able to recognize what they have achieved with the university, and we wish them every success in their future careers.'
For further information about the professional courses that can be studied whilst remaining in work, visit: derby.ac.uk/minerals