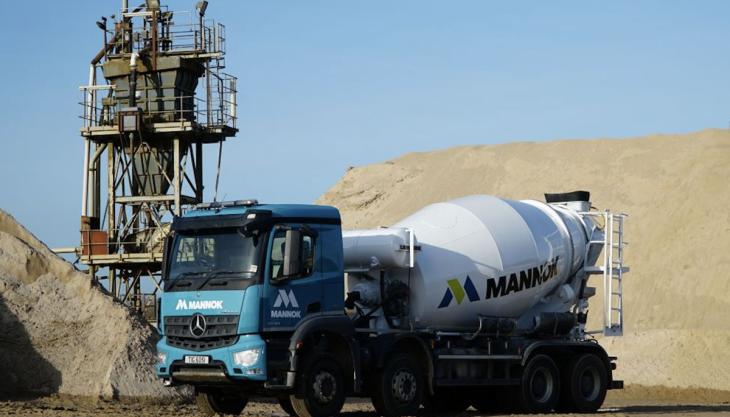 Company offering aspiring lorry drivers the opportunity to gain qualifications and employment
MANNOK have launched a new Lorry Driver Academy and are offering those aged over 20 the opportunity to start a lorry driving career with the company.
The company has developed a bespoke course which prepares lorry driver trainees for theory and practical Class C tests and Driver Certificate of Professional Competence (CPC) tests. The programme develops the trainee's driving confidence and familiarizes them with Mannok prior to their driving role at the company once they are qualified.
Upon successful completion of the programme, the new drivers will join the Mannok team, driving some of the company's 140-plus lorries delivering multiple loads of its product range including aggregates, tarmac, and ready-mixed concrete across the island of Ireland and the UK.
The programme is tailored to each candidate's ability and experience level and includes computer-based and practical training which aligns with theory and lorry driving tests required to become a qualified lorry driver.
Trainees will be provided with the necessary time and support to prepare for the required tests, gaining valuable experience by training alongside Mannok's team of experienced drivers, while familiarizing themselves first-hand with the industry and the environment where their future job lies.
Candidates will also learn how to operate a variety of Mannok's vehicles during their training, such as tipper lorries and truckmixers, to ensure they are comfortable and proficient in driving a range of HGV vehicles.
Mannok say this is advantageous for trainees as standard driver training is often limited to learning how to drive a truck and does not take into consideration the knowledge needed to operate the equipment on a truck, such as a tipper or mixer.
Mannok transport manager Brian McManus commented: 'The programme is very diverse, providing trainee lorry drivers with a range of relevant skills so they are confident, experienced, adaptable, and able to hit the ground running once they are qualified.
'It's a great opportunity for those seeking a new career path with a large local company. The Academy has been in planning for some time, so we're delighted to now have it up and running. Once qualified, there are career development opportunities for drivers to gain further qualifications and progress to the articulated Class C+E qualification.'
On successful completion of their lorry test, the driver will complete a further period of mentoring before being signed off and allocated a vehicle from Mannok's extensive fleet, which could see them driving up to 250 miles across Ireland and Northern Ireland daily.
Caroline McCaffrey, Mannok's HR manager said: 'We are delighted to offer the opportunity to help aspiring lorry drivers achieve their qualifications and start their new career. We hope to continue recruiting new trainees to the Academy each year and to quickly see the benefits, both to the company and to people of this region. It is our ambition to retain talent locally to help build a sustainable, skilled workforce in the area for the future.'