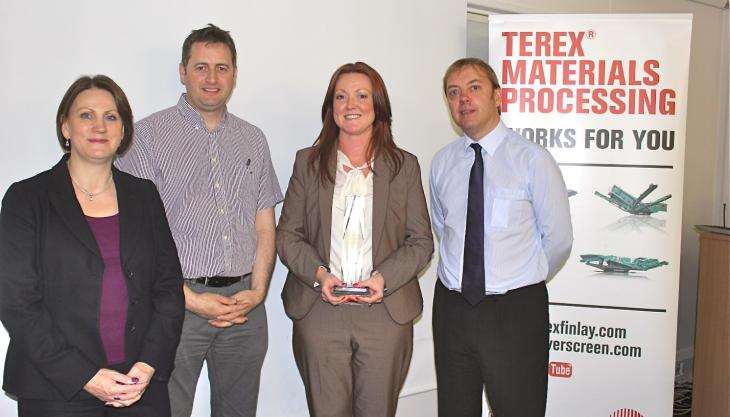 Institute's introduction to aggregates, crushing and screening course wins Terex Chairman's Excellence Award
AS one of the leading global manufacturers of mobile mining and quarrying equipment, Terex Materials Processing are constantly seeking ways to enhance their team members' understanding of end-user requirements, generally to increase sales and improve product design, but also as a vehicle for demonstrating commitment to ongoing team member development. 
With this in mind, in 2011 the company embarked on a journey – in partnership with the Institute of Quarrying (IQ) – to improve knowledge and understanding of crushing and screening across a wide audience of technical and non-technical disciplines. 
Led by Tony Devlin, group engineering director, and Julian Smallshaw, head of education development at the IQ, the Terex Materials Processing team and the IQ created a pilot crushing and screening training programme. More than 200 UK-based team members have now completed the course and have achieved IQ accreditation for Continuing Professional Development (CPD), which is recognized as transferrable learning throughout the extractives industry.
While initially aimed at engineering and sales team members, the crushing and screening  programme has been so well received that participation has expanded to a wide range of functional areas, such as supply chain, human resources and finance. The four-month course is delivered by 'e' learning, with two classroom-based days and a final online assessment. This IQ 'Blended Learning' approach realizes maximum benefit from the IQ's online resources.
The IQ owns and manages resource content within a suite of higher education extractives management qualifications undertaken at the University of Derby. A number of these units are independently offered as part of the IQ's CPD Blended Learning programmes hosted on the IQ's Learning Management System.
Speaking about the course, Tony Devlin said: 'The IQ-developed curriculum has enabled non-customer-facing Terex Materials Processing team members to get broader exposure to our products and markets. It has also widened the scope of our team members' knowledge about our business and, thereby, exposed them to additional career opportunities within the company.
'This enhanced understanding and exposure benefits both the individual team member and Terex Materials Processing as a whole. Based on our positive experience thus far, we are looking forward to expanding the course to other parts of Terex Materials Processing, and look forward to a continued relationship with the IQ.'
As a result of the programme's success, it was nominated for, and won, a Terex Corporation's Chairman's Excellence Award for 2012. This prestigious award is presented annually to Terex team members who exemplify outstanding achievements in meeting the goals of the Terex vision in at least one category: Customer, Team Member or Shareholder Satisfaction.
The IQ programme was one of only eight Terex Chairman's Awards globally in 2012. The awards were presented by Terex Corporation chairman and chief executive officer Ron DeFeo at the Terex Annual Leadership Conference earlier this year.
Terex have also been supportive of the IQ's higher education partnership with the University of Derby.
A number of technical and sales staff have participated in the University of Derby Certificate in International Quarry Operations. This course first ran in 2009 and has gradually built up strong support globally. The course – a one-year distance-learning qualification – concentrates on industry best practices, management, processing and extractives technology.
In September 2013, this course will be superseded by a 'Diploma in Mineral Extraction', which will build on the previous certificate. The new course will be targeted at managers, manufacturers, suppliers and contractors who operate in a surface extraction environment.
Both of these courses demonstrate the IQ's commitment to continue to develop higher education that meets the needs of industry, both in the UK and abroad. The Institute operates its own Learning Management System and hosts a large range extractives-related educational content. Packages are flexible and cost-effective, allowing bespoke training programmes to be built to provide valuable continuing professional development.