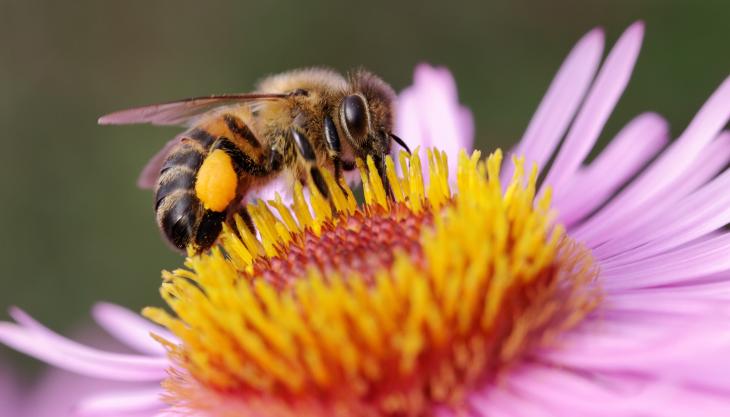 Company teams up with Derbyshire Wildlife Trust to help local bee populations to thrive
EPC-UK, specialists in commercial explosives and blasting services, are to install beehives on land within their Rough Close Works farming operation in Derbyshire – a scheme which forms part of the company's latest wide-reaching environmental initiative.
EPC-UK own a substantial amount of land around their Rough Close Works facility, which is necessary to provide the site with the distance needed to conduct its activities safely.
The company has long used this surrounding land to make an environmental difference by planting farming crops, including wheat, oilseed rape and peas; raising livestock; conducting wildlife conservation; installing field and watercourse buffer strips; sowing wild seed mixtures to create farmland bird food sources; and protecting landscapes and biodiversity with sapling tree plantations.
Over recent months EPC-UK have been working in conjunction with the Derbyshire Wildlife Trust to explore the possibility of successfully and productively keeping beehives at the site. The company decided to embark upon this scheme due to the substantial decline in many UK bee populations, particularly solitary bee species.
Derbyshire Wildlife Trust was invited to survey an area of the company's farmland considered to contain plants suitable to sustain the presence and survival of the insects.
Plans are now in place to clear areas of dead vegetation to allow additional wild flowers to grow, and a member of the Derbyshire Beekeepers Association has already expressed interest in siting some of his beehives on the land and applying his personal expertise to looking after the insects in situ.
The hives will be positioned away from company offices, operational areas and residential neighbours, and it is hoped that the honey produced will be made available to sell to employees.
'A healthy bee population is fundamentally important as they are primary pollinators for many of the UK's wild flowers and agricultural crop plants,' said Prof. Paul Lynch, head of the Department of Natural Sciences at the University of Derby.
'Approximately 78% of temperate flowering plants are insect-pollinated, meaning without insects such as bees they could not successfully reproduce. Bee pollination (often from commercial hives) is vital for the production of important UK crops, including oilseed rape, apples and strawberries.'
EPC-UK's beekeeping scheme forms part of an agenda that has been actively worked upon by the company for the past four years, fulfilling plans to take yet further responsibility for environmental care and improvement.
'We believe we have an environmental responsibility to protect the barrier of countryside we work within,' explained EPC-UK's managing director, Ben Williams. 'Wildlife guardianship and the evolution of strategies designed to make differences to environments, land, people and local ecologies each form part of our role.
'It's the reason we're striving to encourage bees to thrive safely, using our farmland to increase survival rates and population growth.
'We're extremely grateful to both the Derbyshire Wildlife Trust and the Derbyshire Beekeepers Association for their knowledge, advice and support, and hope that our joint plans to further support the bees will prove successful for years to come.'