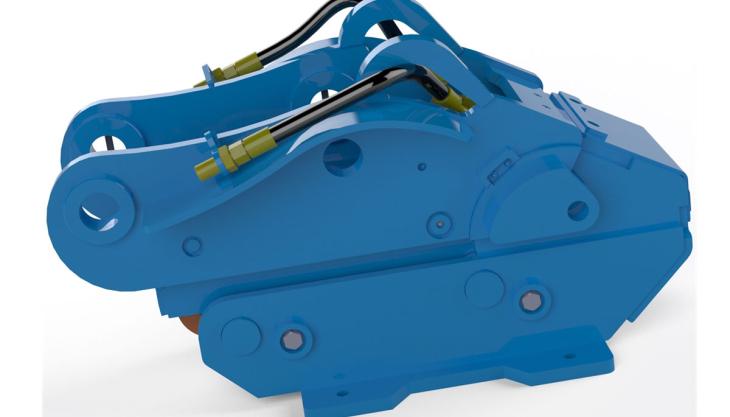 Latest automatic quick coupler engineered for smarter and safer working
ATTACHMENT specialists Hill Engineering have launched a new coupler system that is said to connect any hydraulic work tool safely and automatically from the operator's seat. Combining the versatility and functionality of the Tefra pin grabber coupler, and manufactured in high strength SSAB Strenx steel, the next-generation Tefra Connect is said to set new standards in on-site efficiency.
Sites such as demolition projects, where hydraulic excavators are used with dedicated hydraulic attachments, often need an excavator to dig trenches or load out loose materials, using a pinned, non-hydraulic tool.
With a Tefra Connect-equipped excavator, operators can quickly and easily connect a range of tools to get the job done. This maximizes machine use and reduces or eliminates the need for other mobile plant on site, minimizing operational costs, fuel consumption and other transport movements.
A key feature of Tefra Connect is that it uses a patented 'power coupling plate' bolted to the hydraulic tool, which keeps the hoses rigid and ensures a clean, leak-free connection without any manual intervention. The system also features a regular variable pin centre Tefra coupler, which can be used to pick up other pinned attachments in the usual way.
Uniquely, Tefra Connect locks on to the attachment before engaging hose coupling plates; ensuring alignment and avoiding damage to hose couplings, whist remaining connected until the hose coupling plates have disengaged.
In addition, Tefra Connect requires no manual intervention at any stage – keeping operatives safe during connection/disconnection of high-pressure hydraulic lines whilst the high-pressure oil lines remain sealed, staying free from contamination and meeting environmental obligations.
Suitable for use with all types of hydraulic work tools, such as hammers, grabs and munchers, the automatic quick coupler system uses the same machine mounting and attachment versatility as a standard Tefra coupler and can pick up almost any type of pinned attachment.