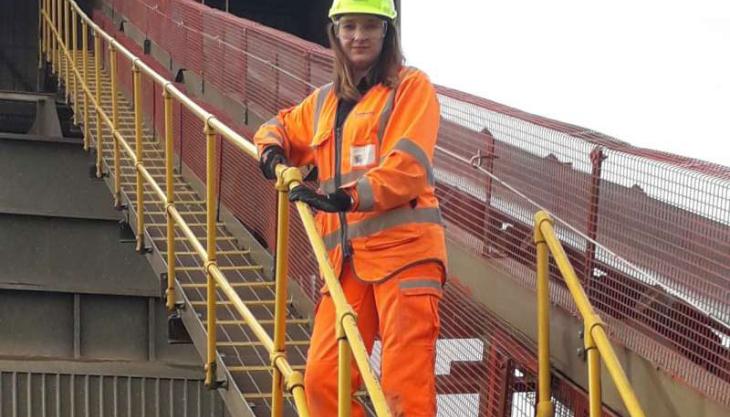 Company's first female apprentice calls for more young women to consider careers in the construction sector

MARKING both National Apprentice Week (4–8 March) and International Women's day (8 March), former apprentice Emily Burridge is calling for more young women to consider careers in the construction sector.
In just over three years 22-year-old has gone from A level student to technical production manager for 25 concrete plants at Hanson UK – after joining the company's 2015 Leadership, Education and Development (LEAD) programme as its first female apprentice.
Ms Burridge says she opted for an apprenticeship rather than a standard degree course at her at grandfather's suggestion and had no previous links with the minerals sector.
Hanson's apprenticeship programme combines practical hands-on experience with a fully funded distance-learning foundation degree in Minerals Extractive Technology from the University of Derby.
It represents a way of fast-tracking a career in the construction sector without accumulating the debt associated with traditional university courses.
'Young women are just not told about the apprenticeship opportunities that exist in the sector, but at Hanson 10% of the total apprentice cohort is now female,' said Ms Burridge, who is also working towards an honours degree in Minerals Management at the same university.
'I was supported all the way through my apprenticeship and, while some people on site may have been a bit surprised, at first, to see a woman in high vis, they have all been overwhelmingly supportive.
'There are no barriers to future progress and my message to other young women is don't be put off. Apprenticeships in construction are a great way to combine a well-paid salary with support through your degree and on to a management role.'
As well as completing her foundation degree and now studying for honours, Ms Burridge says her career highlights at Hanson to date include learning to fly a drone and drive a train.