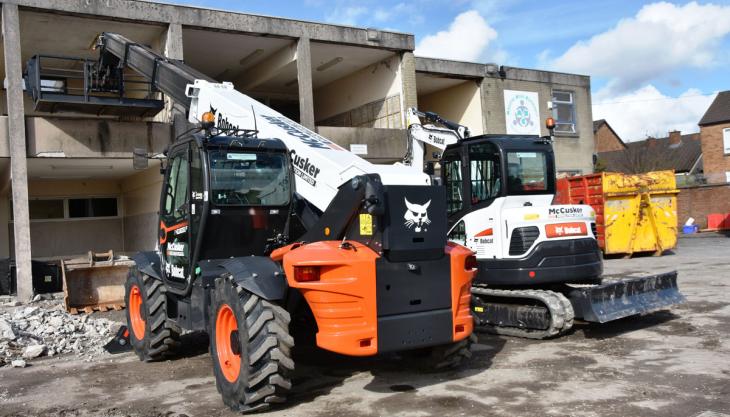 Belfast-based company takes delivery of new T40.180SLP high-lift telehandler and E62 mini-excavator 
NORTHERN Ireland-based McCusker Demolition have purchased their first-ever Bobcat machines – a new top-of-the-range 18m T40.180SLP telehandler and six-tonne E62 compact excavator. 
Supplied by local authorized Bobcat dealers Northern Excavators, the latest machines join an already impressive fleet of equipment at McCusker, who are highly regarded in the UK and Ireland for specializing in a wide variety of demolition and dismantling projects. 
The T40.180SLP high-lift telehandler is currently working on a project to help convert a former four-storey linen factory in Belfast, into a residential development of social housing. According to Conor McCusker, contracts manager for McCusker Demolition, the machine was chosen for its top-class performance for carrying out high-lift jobs. 
The easy-to-use compact stabilizers on the T40.180SLP help to exploit the telehandler's full capabilities in the most confined working areas. In addition to safe working practices, the stabilizers further strengthen the machine's stability when it needs to get close to a building without losing reach.
Mr McCusker commented: 'We purchased the T40.180SLP primarily for its 18m maximum lifting height. It's ideal for working at height and with a basket attachment we can easily transport personnel to those higher levels. It also has an excellent and comfortable cab that provides good all-round visibility, which is essential for our type of work.'
Turning to the new Bobcat E62 mini-excavator, Mr McCusker added: 'What initially appealed to us about the six-tonne E62 was its compact size and zero-tail-swing design, making it perfect for working on sites that are restricted or are difficult to access with a larger machine.'
The E62 mini-excavator offers a maximum hydraulic flow of 132 litres/min, a maximum reach of 6.1m (at ground level) and a maximum dump height of 4.05m. This is complemented by the machine's high digging forces, providing a maximum digging depth of 3.82m.
The E62 model has a two-speed option, which boosts the maximum travel speed from 2.7km/h in low range to 4.4km/h in high range. Bobcat have recently announced the outgoing E62 mini-excavator will be replaced by the brand new R2-Series E60 model.