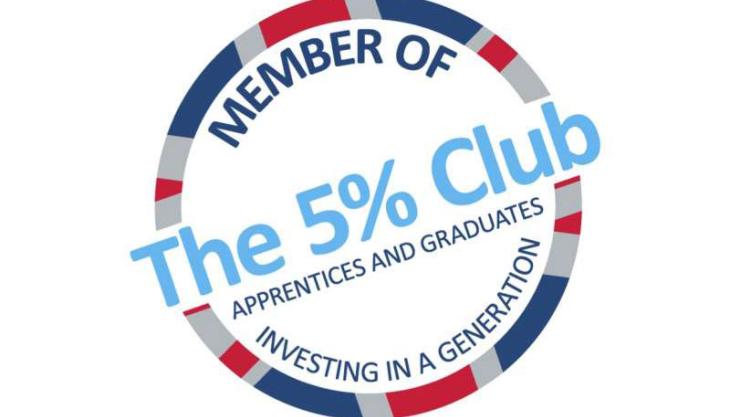 Membership of industry-led initiative reaffirms company's commitment to workforce of the future
EUROVIA UK have demonstrated their commitment to the next generation by joining The 5% Club, an industry-led initiative focused on driving momentum into the recruitment of apprentices, graduates and sponsored students.
The campaign aims to get the UK's public and private companies to commit to raising the number of apprentices, sponsored students and graduates on formal programmes to 5% of their total workforce within five years.
This is viewed as critical to help tackle both the chronic skills shortage and youth unemployment in Britain, and to help the country remain at the forefront of innovation.
Eurovia UK say they already offer a wide variety of apprenticeships, graduate schemes and engineering traineeships, as well as investing more than £1.1 million a year in training and developing their employees.
Group human resources director Kristine Pollock said joining The 5% Club had reaffirmed the company's commitment to its workforce of the future.
'We are passionate about our people and giving them the opportunity to learn and develop professionally whilst watching them grow from strength to strength, and 5% is a target we are confident of reaching,' she commented.
'We already offer a comprehensive ICE- and RICS-accredited graduate training scheme, individually tailored with fast-track opportunities into management. This offers graduates the opportunity to be trained and gain experience within subsidiary companies within Eurovia UK and with their joint-venture companies.
'In addition, a range of successful other graduate schemes and apprenticeship programmes are available and have been running for a number of years.'
Lady Cobham, director general of The 5% Club, said: 'We're delighted to welcome Eurovia UK to the initiative. The company's existing efforts to invest in the next generation are greatly welcomed and together we can strive towards a brighter future for young people in Britain.'