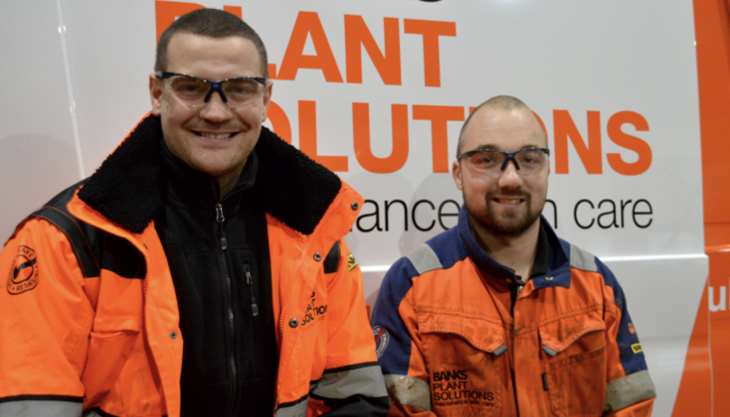 Banks' plant maintenance and management division awarded authorized Engcon service partner status in the UK
THE new plant maintenance and management division of The Banks Group has won a major service contract for a major excavation equipment manufacturer.
Banks Plant Solutions have taken on responsibility for installing, repairing and carrying out warranty service work on all Engcon UK products sold within north-east England, Yorkshire and the north Midlands.
Engcon are one of the market-leading manufacturers of tiltrotators, which connect the arms and buckets of excavators and allow them to rotate, and also manufacture buckets and other accessories for excavators from 1.5 tonnes up to 33 tonnes in weight.
Banks Plant Solutions have now secured authorized Engcon Service Partner accreditation and have just completed its first system installation project at the Thornaby dealership of heavy construction equipment suppliers Doosan.
Robert Hunt, managing director of Engcon UK, said: 'Our sales have roughly doubled every year for the last four years and we have established a network of high-quality service partners to allow us to sustain this growth.
'We are keen to work with companies who share the same service values as us and have the ability to grow with the growing demand for our products.
'It was clear to us that Banks Plant Solutions was a progressive business that could help us continue our rate of expansion that we have achieved so far, and we're delighted to be working together.'
Banks Plant Solutions were founded earlier this year to build on more than four decades' experience of owning, maintaining and managing a diverse fleet of heavy plant, construction and ancillary equipment.
Banks Plant Solutions' plant and equipment maintenance team has extensive experience of maintaining, servicing, repairing and compliance control of machinery from manufacturers including Caterpillar, Komatsu, Volvo, Doosan, Liebherr and JCB.
The team regularly works on a broad range of plant and equipment operating in the construction, civil engineering, earthwork, quarrying, demolition, waste and recycling sectors.
Two new jobs have been created within the Plant Solutions team since the business was launched and more are expected to follow as it continues to grow.
Stephen Banks, business development manager at Banks Plant Solutions, said: 'Engcon and Banks share the same core values, commitment to professional standards and the same customer service-focused approach, all of which makes for a very strong partnership.
'The Banks Group's practical experience of both operating and maintaining equipment of all sizes gives us a clear insight into the needs of both sides of the business, and the practical knowledge that our expert Plant Solutions team offers is second to none.
'The preventative maintenance programmes (and solutions) we offer and implement minimize equipment downtime for our clients and are being very well received by businesses right across the north of England.
'Banks Plant Solutions have delivered a strong performance over their first six months and we're confident that they will continue to grow and generate increasing revenues through the rest of the year and beyond.'