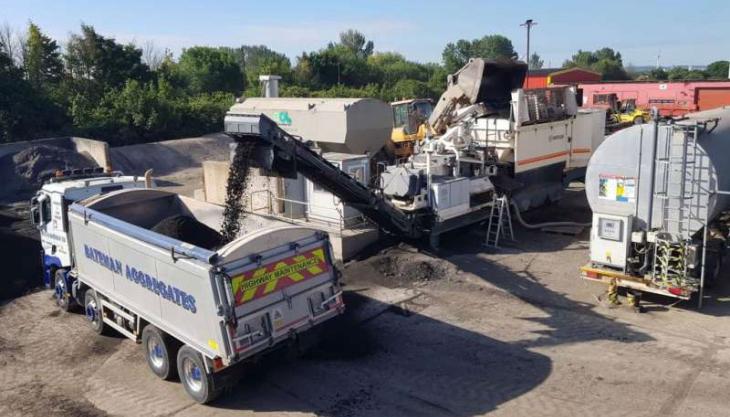 Agreement to support OCL with clinker-free cements for three low-carbon material solutions
LEICESTERSHIRE-based bespoke powder-blending solution providers Cemblend have struck a collaboration agreement with OCL Regeneration to develop the application of Hoffmann Green cements into low-carbon hydraulically bound mixture (HBM), concretes, and Foambase cold-recycled bound-material (CRBM) products. In doing so, the two businesses will work towards decarbonizing the production process to reduce construction's carbon footprint.
The new agreement will see Hoffmann Green cements used in three of OCL Regeneration's high-quality sustainable aggregates, asphalt, and concrete products. The Cemblend-supplied Hoffmann Green products achieve carbon footprints of below 200kg per tonne, compared with the 840kg of Ordinary Portland Cement (Cem I). When sand and gravel is added to cement to make concrete, the mix is approximately 246kg of CO2 per tonne.
Initially the new products will be used at OCL's Micheldever highway waste-recycling depot in Hampshire, before being rolled out across several other operational sites in 2023.
OCL Regeneration, who provide award-winning recycled building materials and sustainable construction solutions from several locations across the UK, have pioneered low-carbon alternatives to traditional asphalt and concrete materials, finding innovative ways to reduce the emittance of carbon in the creation and laying of products.
Simon Boulter, director of Cemblend, commented: 'OCL's innovative processes already save up to 50% of the CO2 versus traditional methods. By adding the Hoffmann Green cements this can be reduced even further, to around a fifth of the carbon footprint of Ordinary Portland Cement.
'Delivery can be in 25kg bags, bulk bags, or a bulk tanker, just like traditional cement. We've been very conscious of making these new products easy to use, so no equipment or construction processes need to change. If you're working towards low-carbon construction, which everyone now should be, these new products tick a lot of boxes.'
Stuart Gready, managing director of OCL Regeneration was impressed by the performance of the Hoffmann Green products and said the agreement with Cemblend followed a significant search to find a suitable product. 'We've been very proactive looking at several products to reduce the carbon footprint of our binders. Until now we hadn't seen any perform well,' he commented.
'As an industry in 2023, we need to be substituting Portland cement clinker and concrete for low-carbon materials. There's been too much talk, and with costs for all materials rising year on year, next year is the time for meaningful action.'
Available immediately from the Micheldever site, the OCL products continue a carbon reduction story that has evolved annually for the last four years. The Micheldever depot was born from a close partnership between Hampshire County Council, Milestone Infrastructure, and OCL. The Hampshire Highways initiative has won multiple industry awards for its sustainability and recycling efforts driving towards the council's net-zero targets, making it an obvious choice of initial location for the new Cemblend and OCL products.