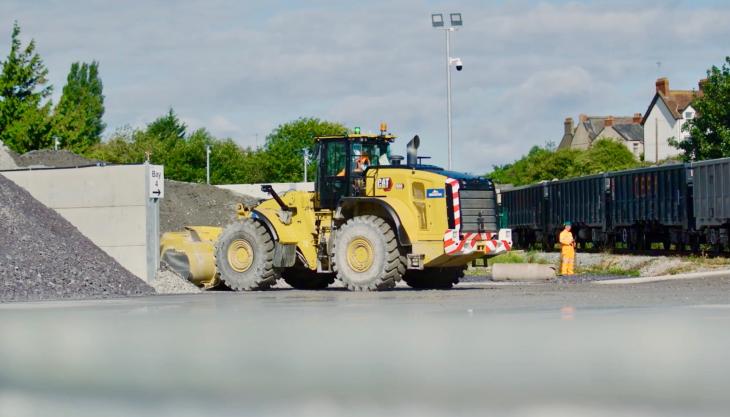 Joint initiative with Network Rail and Welsh Government brings Llandudno Junction railhead back to life
A JOINT initiative between Breedon Group, Network Rail, and the Welsh Government has brought the disused Llandudno Junction freight yard sidings back to life.
The freight yard had not been used for several years but extensive work – including vegetation removal, track repairs, and refurbishment of the points which allow trains to swap tracks – has brought it back into service.
The yard is near the main Penrhyn Quarry of Breedon Group subsidiary Welsh Slate, and up to 260,000 tonnes of materials – ranging from sub-base to decorative aggregate – are expected to pass through it each year, with trains expected to run weekly.
Typical freight trains will carry 1,500 tonnes of material, compared with a truck's 28 tonnes, leading to reductions in CO2 emissions, road traffic, and operating costs.
The first freight train left the refurbished railhead carrying the equivalent of 76 truckloads of Welsh Slate Hard Grey Type 1 sub-base aggregates to Luton.
Breedon already operate several other railheads around the UK, and this latest investment will further improve their distribution network for customers and reduce the carbon footprint of their operations.
The project was supported by the Freight Facilities Grant Scheme, which encourages modal shifts to deliver environmental benefits by removing HGVs from roads.
Andy Roberts, Breedon's general manager for the west of England and North Wales, said: 'At Breedon, we have a strong commitment to sustainability. We recognize the important practical and environmental benefits of rail freight, so we are pleased that this new facility will allow a greater range of slate materials to be delivered across the UK in a more sustainable manner. We are delighted to have worked with the Welsh Government and our partners to invest in this high-quality freight facility in North Wales.'
Jess Lippett, senior regional freight manager at Network Rail, said: 'Rail freight is a vital part of our infrastructure, providing a fast, green, safe, and efficient way of transporting goods.
'We've worked closely with our partners at Breedon and in the Welsh Government to get Llandudno Junction open for business, ensuring that we can carry slate aggregate by rail and therefore reduce the number of lorries on the road and cut carbon emissions. The recent slate loading shows how we can work together to have a positive impact on the environment and the economy.'
John Smith, chief executive officer at GB Railfreight, who are operating the trains, added: 'We're delighted to be transporting slate aggregates from Llandudno Junction. It is encouraging to see the Government and the private sector come together to enable a service that will transport key construction materials, create employment opportunities, and drive local growth. This new service will demonstrate the commercial, environmental, and safety benefits of transporting goods by rail.'
In addition to road and rail freight, Welsh Slate also ship slate aggregates from Port Penrhyn in Bangor to the UK and Europe.
For a video of the railhead in action, go to: https://youtu.be/YngPcNv03I8