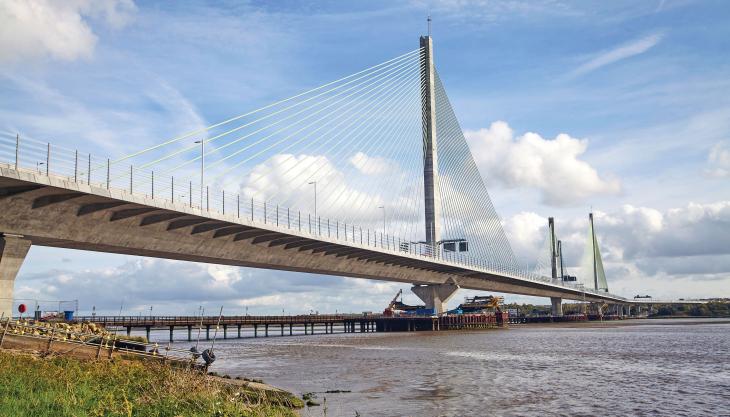 Mersey Gateway Bridge awarded Outright Winner at 50th Concrete Society Awards
THE Mersey Gateway Bridge – the UK's only long-span cable-supported bridge constructed primarily using in-situ concrete – was the Outright Winner at the 50th anniversary of the prestigious Concrete Society Awards in London on Wednesday night.

The bridge, which runs from Widnes to Runcorn, represents a significant advancement in concrete's application for bridge construction and is an exemplar of the material's flexibility. It was nominated by CEMEX UK Materials.

On announcing the winner at this year's ceremony on 21 November, the guest presenter, broadcaster Huw Edwards, said: 'This is a modern masterpiece in concrete design and construction. It works as a big bridge should.'

Some 500 members, guests and construction industry representatives attended The Concrete Society Awards Dinner held at the Royal Lancaster Hotel. The event, which celebrates excellence in concrete, is one of the longest-running awards programmes in the UK construction industry.

Judges from The Concrete Society, the Institution of Structural Engineers and the Institution of Civil Engineers visited all nominated projects – unique among construction awards programmes. The Outright Winner was unanimously agreed for its technical advancements in the use of concrete.

Damon Montgomery of CEMEX UK Materials said: 'We are delighted to receive this honour from such a respected body of judges. Without the collective efforts and teamwork of all stakeholders, this project simply would not have been delivered to the exacting quality required.
'A key success factor was the full collaboration between the CEMEX UK Materials integrated supply chain along with the dedication and organization of our operations, technical and logistics teams, often delivering high-performance products to the project under significant time pressures.
'The result is an iconic structure that we are very proud to have delivered, and its use and visibility in the community will, without question, last for many years to come.'
Five further projects were Highly Commended at the Awards Dinner: George Green Library, University of Nottingham; Plot A – 2 Television Centre, London; Principal Tower, London; Two St Peter's Square, Manchester; and White Collar Factory, London.
Kathy Calverley, managing director of The Concrete Society, said: 'We have been delighted with the number of excellent entries we have received for this, our 50th year of The Concrete Society Awards. Each project has extolled the virtue of the most widely used building material in the world – in cost, time management, usage and aesthetics.
'This year's chosen outright winner, the Mersey Gateway Bridge, certainly demonstrates the sheer flexibility and continuous groundbreaking development of concrete in construction.'