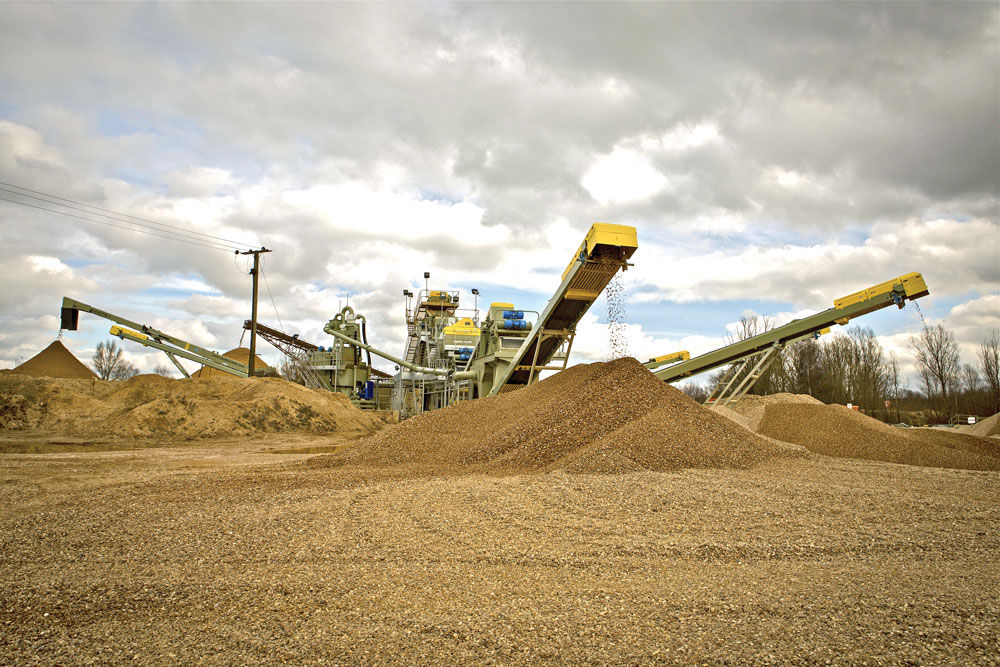 First published in the August 2018 issue of Quarry Management as New Lease of Life
Aggregate Industries bring dormant Little Paxton Quarry back to life with wet-processing equipment from CDE
Aggregate Industries, one of the UK's leading building materials and solutions companies with more than 300 sites across the UK, have brought dormant Little Paxton Quarry, in Cambridgeshire, back to life with a CDE wet-processing solution installed in partnership with Aggregate Processing Solutions (APS).
As holders of Responsible Source certification, Aggregate Industries were committed to developing Little Paxton Quarry according to strict environmental guidelines, as the site is adjacent to Paxton Pits, a Local Nature Reserve (LNR) and a Site of Special Scientific Interest (SSSI). The quarry had been mothballed for six years and Aggregates Industries, through APS, identified CDE as their supplier of choice to maximize the site's materials production potential.
As Aggregate Industries originally did not have an extension planning permission, the company opted to lease rather than purchase the wet-processing plant, which needed to be designed to very specific requirements. APS, who sell, contract and hire processing equipment, and have been partners of Aggregates Industries for 10 years, recommended a fully bespoke, high-efficiency wet-processing solution for Little Paxton, with CDE providing the technical solution and the equipment, and APS installing and operating it on site on a price-per-tonne basis.
David Kinloch, regional manager UK for CDE, said: 'Little Paxton Quarry presented different environmental and technical challenges that CDE's design and technical engineers, in collaboration with Aggregates Industries, tackled systematically and successfully to co-create a tailor-made solution that would deal with the clay contamination in the raw sand and gravel feed, whilst addressing requirements for a specific layout to match the site's footprint as well as height, colour and noise restrictions.
'After the raw feed was analysed in our laboratory, we were able to determine how our solutions could match Aggregates Industries' requirements, such as specific products, tonnages, product blends, and stockpiling capacities.'
With a 180 tonnes/h feed rate, Aggregate Industries wanted to produce a mixture of aggregates and sands for the construction industry, with the option to blend 20mm, 10mm and 6mm products into a 20–5mm product. CDE designed a bespoke modular solution capable of meeting this objective and providing the option for further development at a later stage.
Matthew Sharpe, quarry operations manager at Aggregate Industries, said: 'Whilst making a decision on the plant for Little Paxton, APS and CDE were able to offer a solution to some of the specific requirements we had for the site. This included product blending and stocking capacity, as well solutions to make the operation and maintenance of the plant easier in the long term. CDE's ability to meet these requirements and offer practical solutions was a major contributing factor to Aggregate Industries ultimately purchasing the plant.'
To tackle the clay contamination in the raw feed, Aggregate Industries opted for a complete CDE solution comprising an AggMax 252SR log-washer that performs at optimal efficiency thanks to the inclusion of a Prograde twin-deck washing screen, a transfer conveyor and an EvoWash triple-cyclone sand-washing unit. These are complemented by six stockpilers, a ProGrade rinsing deck and sizing screen, and a Trackstack stockpiling unit. A tracked radial conveyor supplied by APS was also added to the installation to allow more flexibility on site.
Once completed and tested at CDE's assembly facilities, APS took delivery of the plant to install and operate it for Aggregates Industries. With a 180 tonnes/h feed rate from the customer's existing overland conveyor, Little Paxton Quarry now produces +90mm oversize rinsed product, 20–90mm, 20mm, 10mm and 6mm scrubbed products, as well as concrete sand and building sand, and has the option to blend 20mm, 10mmapplications but are also sold as decorative aggregates in markets as far away as Scotland.
Dave Kinloch said: 'Seamless communication with our client Aggregate Industries and long-term partner APS was key to developing an efficient solution that would be operational in record time. Whilst CDE co-created the equipment with Aggregate Industries, to ensure all production requirements would be met, effective collaboration with APS was a crucial element in the installation and operation of the new plant. APS introduced each component of the Aggregates Industries' washing system to guarantee perfect synergy and optimal production yield.'
John Dunne, managing director of APS, added: 'It's great that the quarry is back up and running and I'm happy to see how pleased Aggregate Industries are with their new washing system. There is no doubt that active collaboration with our client, Aggregate Industries, and CDE contributed greatly to the success of the project. APS are experts in wet-processing installations and as we have been working with Aggregate Industries and CDE for 10 years, our knowledge of both the client's needs and the CDE technology meant we could be an effective partner in the development of a highly efficient modular plant. It took only seven weeks to install and commission the system before Little Paxton was ready to start producing high-quality sands and aggregates again.'
Duncan Hayden, assistant site manager at Little Paxton Quarry, commented: 'As a company, we have been working with APS for around 10 years and they have always delivered an excellent service, so when they recommended the CDE technology as the answer to the very specific requirements we had for Little Paxton Quarry, we knew we could trust them. The whole experience has been very good and we are delighted with the performance of our CDE plant.'
Dave Kinloch concluded: 'When planning permission was delivered and capital expenditure (CapEx) became available two years after Aggregate Industries started sending materials to market from Little Paxton, the company was able to purchase the CDE plant in full at an pre-agreed price, demonstrating the benefits of leasing to produce materials immediately rather than waiting for CapEx to buy a plant that would then take an extra year to be developed and operational on site.
'We are delighted to have been able to produce a bespoke wet-processing solution that has ensured the successful rebirth of Little Paxton as a productive quarry that delivers high-quality materials to local construction businesses, as well as markets located as far away as Scotland.'