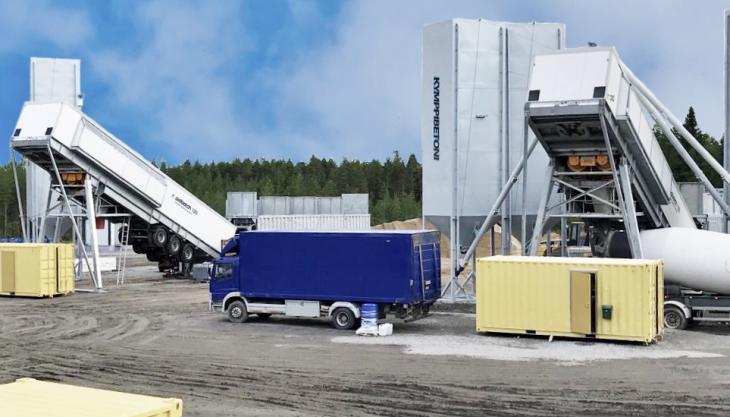 Durable, high-output mobile concrete batching plants chosen for production of wind farm foundations
KYMPPIBETONI Oy, one of Finland's leading ready-mixed concrete suppliers, have in recent years focused on local on-site ready-mixed concrete production for wind turbine foundations, facilitated by the use of mobile concrete batching plants.
To support future demand in this regard, the company has recently purchased two Rapidbatch 120 mobile concrete batching plants from Rapid International. Featuring plug-and-play electrics, these compact modular plants are easily transportable and can be fully erected in as little as one working day, with installation requiring no foundations and only a single crane lift.
The Rapidbatch 120's integral three cubic metre Rapid twin-shaft mixer batches up to 120 cubic metres per hour and features a special arm design that allows fitment at either 60° or 90°. This creates an area of high turbulence that ensures rapid production of a high-quality homogeneous mix.
Durability was a key deciding factor for Kymppibetoni in selecting their mobile batching solution, with frequent site-to-site transfers combined with the often-harsh Finnish weather conditions demanding a particularly robust plant solution.
Meeting this requirement, the Rapidbatch 120 is fully galvanized and features an auto-greasing system, heavy-duty gearboxes and hard-wearing liners on the weigh belt conveyor and bin outlets. In addition, the integral Rapid twin-shaft mixer offers reduced wear with extra-thick chill-cast tiles and paddles and an aerofoil arm design.
To ensure maximum output of concrete in adverse weather conditions, both Rapidbatch 120 plants were fully winterized with insulated composite cladding, lined doors and a heating system for the aggregates, water and concrete mixer.
Jarlath Gilmore, sales and marketing director at Rapid International, commented: 'We were thrilled that Kymppibetoni selected the Rapidbatch 120 for their mobile batching requirements. We have supplied a number of Rapidbatch plants for wind farm foundation projects around the world and were, once again, pleased to see the Rapidbatch excel in this application.'