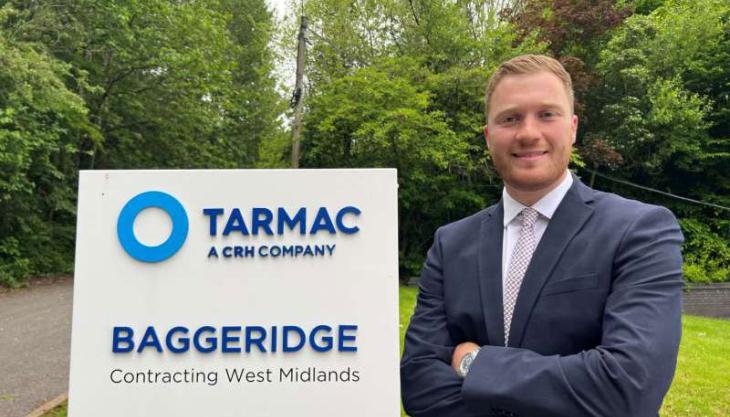 Jake Cartwright gains accreditation after successfully passing all exams including completion of three-year degree apprenticeship
A TARMAC apprentice has paved the way to chartered success after graduating with a first-class honours degree in quantity surveying at the University of Wolverhampton. Jake Cartwright, 25, from Sedgley in the Black Country, studied for a Quantity Surveying Degree Apprenticeship, which was funded by his employer Tarmac.
Through his sheer determination and hard work, he is now a fully qualified quantity surveyor at the company after studying part-time for the three-year degree apprenticeship and achieving chartered member status with the Royal Institute of Chartered Surveyors (RICS), recently passing his assessment of professional competence (APC).
The APC ensures that candidates are competent and meet the high standards of professionalism required to become a chartered surveyor – proving competency in a mix of technical and professional practice, and interpersonal, business and management skills.
Mr Cartwright commented: 'It's only through the opportunities offered to me at Tarmac that have allowed me to study for a degree. I really enjoyed studying and love learning about something I'm involved with on a day-to-day basis so it was an ideal progression path for me…I want to progress in my career as high and as far as I can, taking other opportunities if they become available and furthering my knowledge.'
As part of his new role, Mr Cartwright will be undertaking valuations on site, talking to clients, agreeing values of accounts, new works pricing, and looking at contracts amongst other things.
Darren Bird, national manager for Tarmac, said: 'Apprenticeships are very important to the company. I also started my career as an apprentice at the University of Wolverhampton so I know first-hand how far that can take you. You really can't beat learning while you're earning and that's very true for quantity surveying.
'Construction is so hands-on, and you learn a lot from other colleagues. You can't get enough knowledge from being on-site and coupled with the learning in the classroom, the two really work together. Tarmac really values people and is moving towards more apprenticeships; it's one of our core values, so it's wonderful to see Jake's progression and success.'
Richard Watson, senior area quantity surveyor for Tarmac in the West Midlands, added: 'Jake is an amazing success story for Tarmac. He's now fully qualified and he's made that transition from academic learning to applying that knowledge to the work he's doing and he's embraced the whole process really well. Degree apprenticeships offer a smooth transition with the balance between learning and work, and the graduate programme allows employees to hit the ground running.'