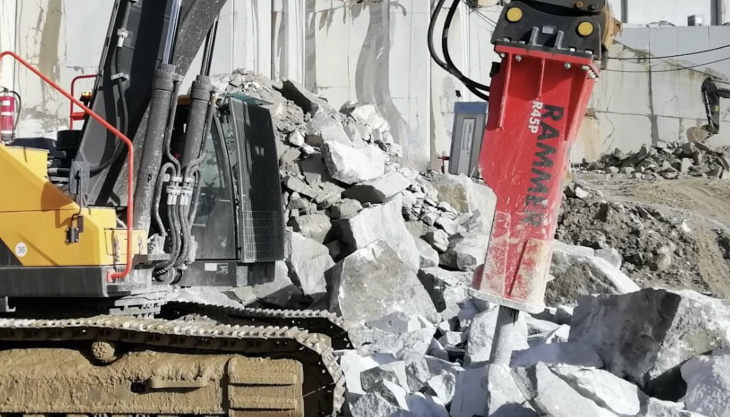 Britafiel SA invest in new Performance Line hammer with RD3 remote monitoring system
PORTUGUESE quarrying company Britafiel SA have invested in a new Rammer R45P Performance Line hammer, owing to its reputation for high productivity, reliability and durability. The R45P is part of the new Performance Line of hammers from Rammer which has been developed to provide solutions for a wide range of breaking tasks.
The design of the R45P and the other Performance Line models places an emphasis on operator comfort through a vibration-dampened and sound-suppressed heavy-duty housing that minimizes energy transfer to the carrier machine.
Suitable for carriers weighing from 32–53 tonnes, the 2,950kg hammer incorporates the latest developments in proven breaking technology, including an idle-blow protector (IBP) that ensures the hammer cannot be operated until pressure is placed on the tool. This eliminates tie rod stress, reduces oil overheating and protects against premature failures.
In addition, a nitrogen piston accumulator ensures that optimum impact power is available for any application, whilst a membrane-type accumulator dampens pressure peaks to protect the carrier hydraulics.
To ensure a long, trouble-free life, the Rammer tool grease used with the R45P has been specially developed to help the hammer withstand high temperatures and pressures. Moreover, as with all Performance Line hammers, the R45P comes with a Ramlube II kit as standard, mounted on the hammer housing to ensure optimum wear and impact protection.
An optional extra for the Rammer R45P hammer – one that Britafiel chose and have found to be of great benefit – is the RD3 remote monitoring system. By logging on to the My Fleet platform, the RD3 system provides detailed information about operating hours, service intervals and GPS location of the hammer, thereby improving both fleet management and operational profitability.