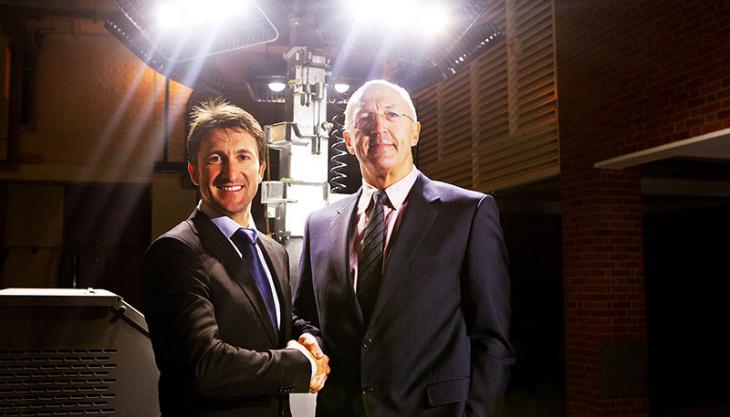 AllightSykes awarded distributorship of Morris' SMC lighting tower range across Australia and New Zealand
MORRIS Site Machinery have appointed AllightSykes to distribute their SMC lighting tower range in Australia and New Zealand. The partnership will also see AllightSykes promote the nine-strong SMC line-up of LED, solar and metal-halide towers through their network of overseas territories, which includes south-east Asia, the Americas, the Middle East and Africa, where 24 units have recently been ordered by dealership Barloworld Power.
According to Morris Site Machinery's chief executive, Chris Morris (left of photo), the move is the latest step in a campaign to strengthen the company's business growth through international sales and aftermarket partners.
He commented: 'As a business, securing the right sales and service partners is as essential as providing the ultimate product. This new partnership locks down a very important part of the world for us and will strengthen our hold and impact in emerging territories. It signals an exciting step change for our global ambitions.'
Paul Sowerby (right of photo), director of AllightSykes, added: 'We've been looking for a tight-fit metro lighting partner for some time. The technology behind the SMC brand is unquestionable and we're delighted to have landed on a business in Morris Site Machinery which shares our core values and commitment to innovation and quality.
'The SMC lighting tower range owes its success to British-built durability, a small footprint and quiet sound levels of just 60dBA at 7m. This has made it the tower of choice for projects such as metropolitan road works around Europe and Russia; where noise restrictions pose a problem for many other tower brands.'
For AllightSykes, the best-selling TL-90 LED and its solar-powered options will provide customers with robust, safe and economical solutions. With a strong focus on environmental performance, the 2015 SMC TL-90 lighting model is powered by a fuel-efficient Kubota D905-BG diesel engine that is equipped with a fuel spill containment tray as standard.
The TL-90XTRA unit is supplied with either four efficient 1,000W metal-halide lamps or five 240W LED lamps. All SMC models have hydraulic mast raise and optional light tilt.
Mr Morris added: 'This really is an exciting time for the business with our overseas ambitions taking shape and Allight having the reputation, after-service support and customer base to inject some real dynamism into these territories.'