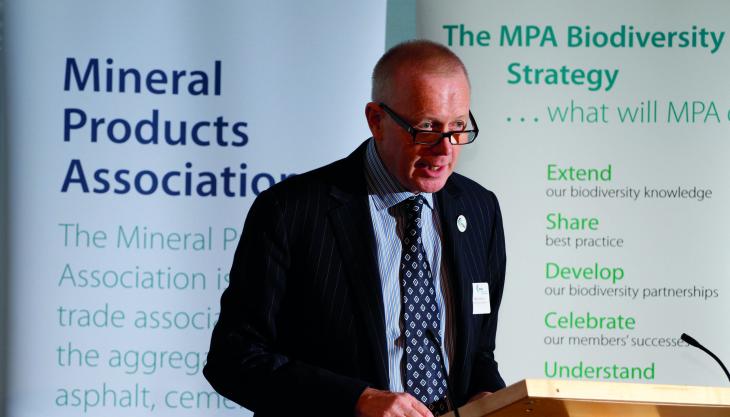 After 13 years at the helm, Nigel Jackson prepares to hand over to new MPA chief executive Jon Prichard
AS Mineral Products Association (MPA) chief executive Nigel Jackson prepares to hands over the reins to new chief executive officer Jon Prichard at the end of this week, Quarry Management looks back with him at his 13-year stint as the industry's lead advocate.
Mr Jackson was instrumental in the formation of the Mineral Products Association (MPA) in March 2009, initially becoming interim chief executive, then taking on the role permanently in June the same year. Three years earlier, after holding senior roles with leading materials producers, he became executive director of the Quarry Products Association, brokering its merger with the British Cement Association and The Concrete Centre to create the MPA.
'I was very fortunate to be part of the project team who, in 2006, were tasked with developing the concept of forming one sectoral trade association and then making it happen,' said Mr Jackson. 'Little did I know then that the next chapter of my career would be as chief executive for the next 13 years.'
Over his time with the MPA Mr Jackson has worked with seven different MPA chairs and 38 board directors, presiding over an overwhelming array of developments, initiatives, and campaigns, from health and safety to quarries and nature, and from climate change and the circular economy to planning and the future supply of minerals.
He represented the MPA at the highest levels nationally and internationally, giving countless keynote speeches at conferences, addressing numerous parliamentarians at select committees and APPGs, and personally writing innumerable articles and columns, not to mention his hands-on involvement in some 600 press releases and more than 400 films over 13 years.
Since its 2009 launch, MPA membership has doubled to almost 550 members, both organically through individual companies signing up as well as through mergers and affiliations with other groups representing related sectors. That means the UK is the only country to have united more than 90% of all mineral and mineral product activity under one organization.
'Bringing the sector together, unifying thinking, building consensus, strengthening cohesion, and growing the association has been immensely challenging, fascinating, and demanding, and entirely reliant upon the goodwill and co-operation of MPA members,' said Mr Jackson. 'I am grateful for their engagement, which enables the MPA staff team to do their job to protect and promote the industry.
'My aim has always been to build a 'world-class trade association' for a sector that is 'essential, responsible, and sustainable' by 'driving change, raising standards, and improving perceptions', and I believe that even if we are not quite there yet, we are very close.
'I'm particularly proud that the MPA led and, with other parts of the minerals sector, developed the UK Minerals Strategy, which remains unique in UK industry as it was developed by business and then sold back into government.
'And I was delighted that we were able to convince BEIS officials and, in turn, government ministers to grant the industry 'essential' status in 2020 in our own right in response to Covid. It was also quite an achievement to get the MPA represented on the Extractive Industry Transparency Initiative (EITI) alongside oil and gas.
'Overall, I believe we have established, quantified and evidenced the profile and value of the industry. We developed a new Vision Zero strategy for health and safety through the 'Fatal 6'. We rolled out a credible roadmap to Net Zero for cement and concrete, created a unique Biodiversity Strategy and showcased the great work members have done with our award-winning 'Quarries & Nature' campaign, as well as recently relaunching 'Make the Link'.
'We have influenced countless technical codes and standards to ensure the UK industry remains competitive, and supported members to unlock new mineral reserves. The UK's continuing dysfunctional planning and permitting system would be immeasurably worse without the great work of our various committees and staff.
'It's thanks to that top-quality staff team, backed by a broader network of industry professionals, that today the MPA is regarded as a leading trade association with an internationally recognized reputation for leadership, integrity, and innovation.
'The development of the MPA Charter and its seven strategic priorities, associated objectives, commitments, and targets is the gateway to 'self-regulation', and as the MPA Good Neighbour Scheme gains momentum, will differentiate our sector as being increasingly mature, responsible, and accountable as we build more trust with communities and key stakeholders.
'When the MPA was launched it was a gamble crafted by a leadership group who wanted to build industry unity. A fragmented sector is a weak and ineffective sector, and our mission was to change that by having 'one organization, one plan, and one voice', and that is what we have done.
'These are trying times for all businesses but, as the austerity and pandemic years have shown, mineral products is a wonderfully resilient industry that will survive. Our industry's greatest feature is its essentiality, which will shield it from most of the risks that other sectors will suffer, provided it thinks and plays long and sticks together.
'And it might be a cliché, but our greatest asset is our people. I would like to encourage all the young people I have met on my visits to members' sites to aim high and become tomorrow's leaders in an industry that will become increasingly important as part of the response to climate change. Time is not on our side but the talent and enthusiasm I have encountered over the years fills me with hope.
'Working in this industry has never been a job for me. It's a lifelong passion and a way of life, and now I will look to fulfil that emotion in other ways as I pursue new opportunities. By the way, I never said I was retiring!'