Efficient Roller Bearings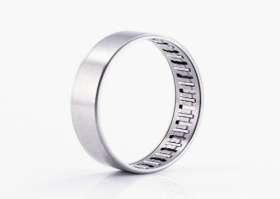 File attachments
Listed in
Maintenance & Repair
New high-precision needle roller bearings from Schaeffler offer reduced friction and downsizing options for design engineers
Schaeffler have launched three new high-precision roller bearings: the X-life machined needle roller bearing version D; the X-life machined needle roller bearing with a TWin Cage; and a slimline drawn cup needle roller bearing (pictured), which has a radial section height of just 1.5mm. 
Schaeffler's version D has a new profiled steel cage manufactured using a newly developed, optimized forming technique. It provides a significantly higher load-carrying capacity and is designed so that the number of needle rollers and the length of needle rollers can be increased without expanding the overall dimensions of the bearing. 
According to Schaeffler, using more rolling elements and extending their load-bearing length, the new X-life needle roller bearings version D offers an increase in load ratings of up to 25%. This means that bearings installed in the same mounting space can be subjected to significantly higher loads without increasing the physical size of the bearings. 
It is also possible to reduce the physical size of machines and systems while still achieving the required bearing performance. For example, the new X-life NK20/16-D-XL needle roller bearing with a 20mm diameter bore and a 16mm width offers a higher load-carrying capacity than the X-life NK26/16-XL needle roller bearing, which has a larger bore diameter of 26mm. If the new bearing is used for downsizing, the section height of the bearing can be reduced by 15%, the weight by 20% and friction by 30% while still providing the same load carrying capacity.
In addition to the new X-life NK20/16-D-XL needle roller bearing, Schaeffler's new range also includes the NK55/25-D-XL, as well as three additional sizes: the NK14/16-D-XL, the NK28/16-D-XL and the NK37/20-D-XL. Together, these five bearing sizes offer numerous downsizing options for radial needle roller bearings, ie the enveloping circle diameter of the new bearings ranges from 14mm up to 70mm.
The machined needle roller bearings featuring TWin Cage are manufactured in plastic and provide higher efficiency as a result of lower friction. Rather than a single long-length needle roller, the new bearing uses two short needle rollers, which are inserted next to one another in a single cage pocket. This unique combination of cage and rolling elements reduces friction by up to 25% compared with conventional needle roller bearings.
For example, the power loss due to friction of an X-life NK45/20-TV-XL machined needle roller bearing with a TWin Cage, operating at 4,000rev/min, is 25W–30W less than a bearing with a conventional plastic cage. This means that the use of only one needle roller bearing with a TWin Cage saves a similar amount of energy as that required to run a light bulb. 
In addition, the new bearings operate with reduced heat generation, resulting in increased grease operating life and, therefore, longer lubrication intervals. The accuracy of the application has also improved, thanks to reduced fluctuations in temperature.
There has also been an improvement in the bearing kinematics due to optimum load distribution on both rows of needle rollers. Tests at Schaeffler have shown that bearings with a TWin Cage benefit from significantly increased operating life.
For a drawn cup needle roller bearing with a diameter from 15-50mm, the radial section height of 1.5mm on Schaeffler's slimline drawn cup needle roller bearing is the current limit in terms of how small a bearing and cage is manufactured. Currently, the smallest section height available from most other bearing suppliers is around 2.5mm.
By developing new manufacturing methods for the cage, Schaeffler have been able to produce bearings to extremely fine tolerances. This means the new slimline drawn cup needle roller bearings are equivalent to plain bearings in terms of their external dimensions, which makes them ideal for replacing plain bearings in automatic transmission systems and gearboxes.
Other advantages of slimline drawn cup needle roller bearings include reducing friction by up to 60% compared with conventional plain bearings. They also help to simplify any adjacent structures or components and increase the accuracy and reliability of the system.
Plain bearings in automatic transmissions must always receive a direct, adequate supply of oil from inside the transmission for the system to operate reliably. This requires significant machining time and costs, as the shaft needs to be provided with horizontal and vertical holes for the oil feed.
In contrast, with slimline drawn cup bearings, a fine oil mist is sufficient for reliable operation. Complex oil feed systems are no longer required, while any oil pumps within the system can be replaced with smaller, more cost-effective pumps. 
For reliable operation, plain bearings require a load-bearing lubricant film. The reduced frictional torque of a rolling bearing compared to a sliding lubricant film or layer results in reduced breakaway torque during start-up. Slimline drawn cup needle roller bearings offer higher operational reliability, for example, in start-stop applications. 
In addition, the transmission oil will not be contaminated by fine wear debris from the sliding layer found in plain bearings. The oil, therefore, remains cleaner if slimline drawn cup needle roller bearings are used. At the same time, accuracy increases because the bearing clearance on the shaft also increases due to abrasion/wear in the plain bearings. 
The high accuracy of a drawn cup needle roller bearing during its operating life contributes to reduced clearance of the gear teeth, which, in turn, increases the reliability and operating life of the transmission system.
For further information visit: www.schaeffler.co.uk